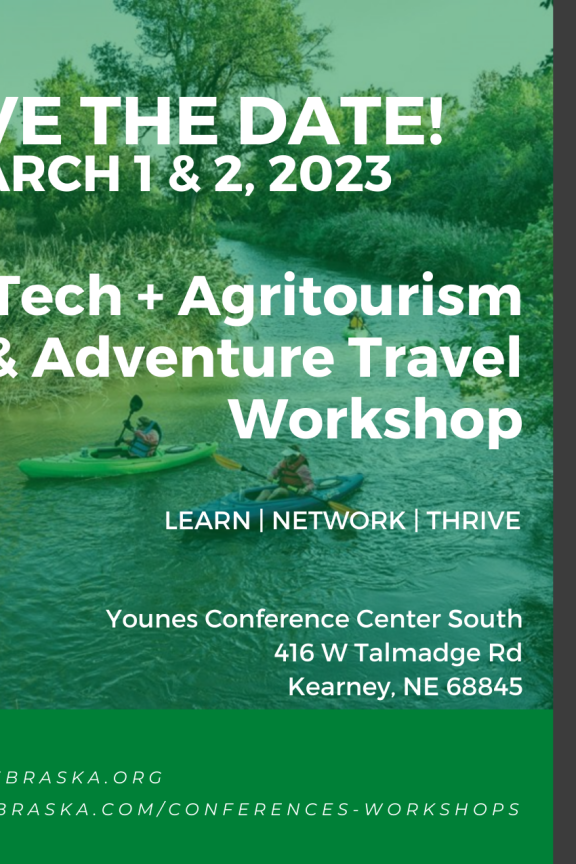 MarkeTech + Agritourism & Adventure Travel Workshop
Start | Grow | Market
A successful business
Overview
Each year, Nebraska Tourism hosts a workshop aimed at helping Nebraskans start, grow and market successful agritourism, ecotourism, and/or adventure travel businesses. Attendees learn from experts about a variety of subject matter and have the opportunity to connect with resource providers throughout the state. This year, we're combining our event with GROW Nebraska's MarkeTech Conference to offer:
A behind-the-scenes tour of Mac's Creek Winery & Brewery to gain insights into the challenges and successes of a flourishing family enterprise.
Intensive networking opportunities to make lasting, beneficial connections with prominent Nebraska businesses and a plethora of vendors providing samples of made-in-Nebraska products.
Educational sessions focused on current tourism and business trends, effective marketing, event planning, business sustainability and more!
Connections to resources and practical tips that Nebraska businesses can walk away with and implement immediately.
Register through the link above to join us for this year's event! Attendees will be comprised of entrepreneurs, small businesses, growers and makers, tourism attractions, DMOs, marketing agencies, hotel and restaurant organizations, educators, resource providers and more! Expected Attendance:  300
Become a sponsor! We encourage you to become a valued sponsor and play an integral role in the conference's success. As a sponsor, you will be increasing your exposure, growing your target audience, and promoting your product or service to the people who will benefit from it the most – all while enjoying the perks and education you'll gain as a conference attendee! Sponsors will:
Promote services, products and other offerings directly to Nebraska businesses and entrepreneurs.
Meet numerous prospective clients from across the state in one place.
Network and develop connections in order to generate quality sales leads and partnerships.
Participate in all conference activities.
To become a sponsor, click on the link above to find a sponsorship level that fits your budget and needs and follow the instructions to fill out and submit your form before January 31, 2023.
Accommodation
Comfort Inn (available for Tuesday and Wednesday nights)
118 3rd Ave, Kearney, NE 68847
(308) 236-3400
Fairfield Inn (available Wednesday night only)
510 Talmadge Road, Kearney, NE 68845
(308) 236-4200