749 Nebraska Passport participants travel to every stop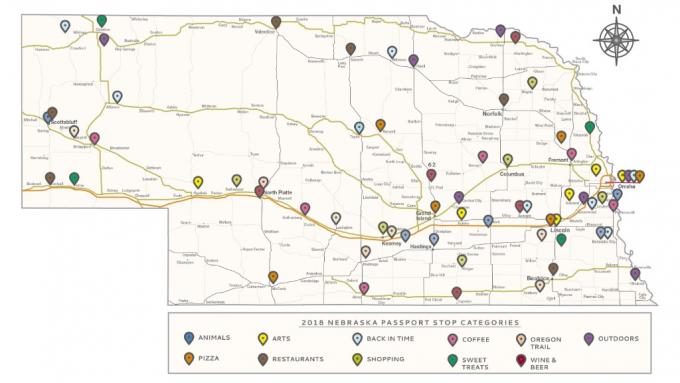 PRESS RELEASE
FOR INFORMATION, CONTACT:
Press Contact: Erin Lenz at 402-471-3797, or [email protected]
Passport Coordinator: Erin Wirth at 402-471-3789, or [email protected]
FOR IMMEDIATE RELEASE
LINCOLN, Neb. (October 30, 2018) – This summer, a record breaking amount of people traveled around Nebraska to get stamps for the Nebraska Passport program. This year, 749 participants submitted Passports with all 70 stops stamped, versus 469 in 2017 and 168 in 2016 when the program hosted 80 stops. These "Passport Champions" hail from Illinois, Iowa, Kansas, Minnesota, Missouri, Nebraska and Oregon.
"The Nebraska Passport gave me a renewed sense of state pride," said Melanie Wortsell of Norfolk. "The people we met along the way were so friendly and genuine. We saw places that we'd never heard of before. The scenery in western Nebraska was incredible. It was an awesome adventure!"
2018 Nebraska Passport Statistics:
There were 95% more prize entry sheets submitted and 50% more Passports requested in 2018 than 2017.
From submitted Passports, 144,903 total stamps were collected.
The average number of stamps submitted per participant was 31.
Participants included residents from 418 Nebraska communities and 46 states.
Passport participants ranged in age from 1-year-old to 98-years-old.
Top 15 Most Visited Stops

UNL Dairy Store, Lincoln
Rabbit Hole Bakery, Lincoln
Piezano's, Lincoln
The Archway, Kearney
Zio's Pizza, Omaha
Wave Pizza Co., Grand Island
Platte Valley Antique Mall, Greenwood
Sheldon Museum of Art, Lincoln
Mahoney State Park, Ashland
Passageway Gallery, Omaha
The Durham Museum, Omaha
Gene Roncka Willow Point Gallery, Ashland
Milady Coffeehouse, Fremont
Bottle Rocket Brewing Co., Seward
Shopping Tripps, Kearney
"This program has grown year after year, achieving the goal of getting Nebraskans to explore the state they call home," said John Ricks, Nebraska Tourism Commission executive director. "To have 749 people make it to every corner of Nebraska and to see participants from 46 states is absolutely remarkable."
In 2017, the Nebraska Passport program generated nearly $6 million in travel spending throughout the state and $469,500 in state and local tax revenue, according to a study done by Dean Runyan & Associates.
The winner of this year's grand prize drawing is Melissa Martin of Shelton. She will receive an Omaha Steaks Butcher's Share Quarter of Beef with a free chest freezer, in addition to other program prizes.
Additional drawings were done for 300 Nebraska Lottery scratch coupons, a year's worth of Bakers Candies Chocolates, a year's worth of Runza and a variety of other items from the 2018 passport stops.
Travelers who visited participating locations and collected stamps could also earn a passport decal, $15 in Nebraska lottery coupons, a Nebraska tourism calendar, Nebraska poster booklet and Passport Champion apparel.
 
Be a 2019 Nebraska Passport Stop
Not only does the Nebraska Passport program benefit travelers through helping them create life-long memories, the program greatly benefits the 70 chosen Passport stops through increased traffic, sales and awareness.
"The Passport program was a wonderful experience and brought so much awareness to our small business," said Cyndie Schoof, owner of Sugar Shack Country Candles in Edgar. "We had hundreds of Passport visitors each month. We had such a great time visiting with them and hearing stories about their Passport travels. We have gained customers for life from this program."
Applications are now being accepted for Nebraska Tourism's 2019 Passport program. Any Nebraska destination is welcome to apply to become a Passport "stop." Past stops have included museums, restaurants, outdoor adventures, retail stores, etc.
To complete the 2019 Passport online application, as well as to view information about Passport stop requirements, how the program benefits Passport stops, and details about the application process, go to: http://nebraskapassport.com/program/application/. The application deadline is December 31, 2018. Questions about participating in the program can be directed to [email protected]
For more information about travel, events and unique destinations in Nebraska, order your free travel guide today at VisitNebraska.com. Then stay connected with Nebraska Tourism on our Visit Nebraska Facebook page, on Twitter, on Pinterest, on Instagram and on YouTube.
 
The mission of the Nebraska Tourism Commission is to expand Nebraska's dynamic and diverse travel industry making it more viable by creating awareness, attracting increased visitors which results in greater tourism revenue and economic gain throughout the state. To learn more, go to VisitNebraska.com.
####