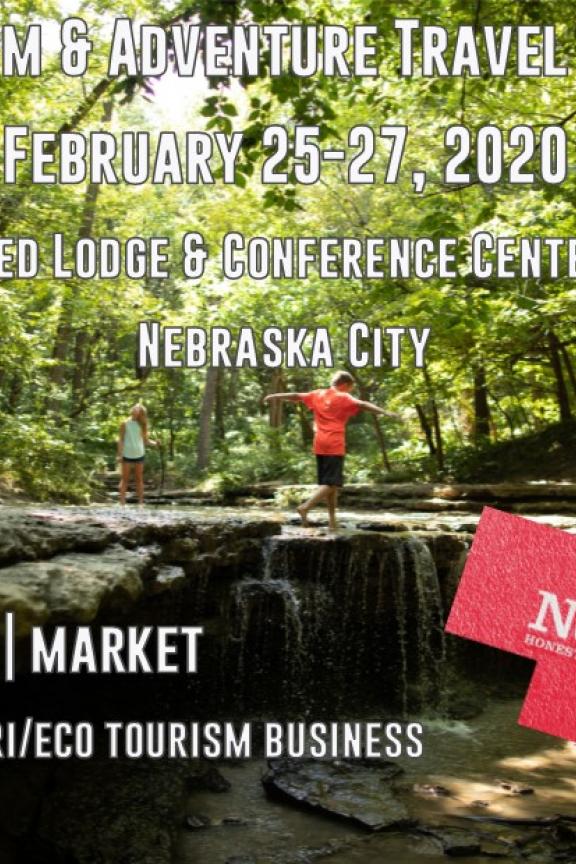 Learn about successful agri/eco businesses at 2020 Agritourism and Adventure Travel Workshop
PRESS RELEASE
FOR INFORMATION, CONTACT:
Press Contact: Erin Lenz at 402-471-3797, or [email protected]
Workshop Contact: Karen Kollars at 308-249-3220 or [email protected] 
FOR IMMEDIATE RELEASE
LINCOLN, Neb. (January 16, 2020) - Get a behind-the-scenes look at four featured agri/eco tourism destinations and learn valuable information from keynote speaker Jeremy Fontana at the 2020 Agritourism and Adventure Travel Workshop.
This year's bus tours will give attendees an inside look at four of the region's successful agri/eco tourism destinations: Arbor Day Farm, Slattery Vintage Estates, Bloom Where You're Planted Farm and Midwest Hop Producers.
 
"The bus tours give workshop attendees the chance to see and learn from the unique experiences these destinations offer travelers and possibly inspire them to create their own special agri/eco tourism stop," said Jenna Bartja, Nebraska Tourism Commission adventure travel specialist.
 
Outdoor exploration and 260 acres of natural beauty await you at Arbor Day Farm in Nebraska City. This National Historic Landmark—and the birthplace of Arbor Day, the tree planter's holiday—is packed with fun and adventure for the whole family. The farm offers year-round attractions, with the most recent addition being its newly opened Treetop Village.
 
The Slattery family purchased 164 acres of land in Cass County in the late '90s. Longtime wine lovers Barb and Mike decided to turn their passion into a hobby and started a vineyard, planting their first vines in 2001. The Tasting Room opened in 2008, and Barb and Mike's daughter Sarah debuted her wood-fired pizzas in 2009. Advertised as "glamping," guests stay overnight in vine-side canvas tents on wooden platforms, outfitted with electricity and most modern amenities.
 
Inspired by advice to "bloom where you're planted," Terry & Teresa Lorensen opened their farm to visitors in 2005 and now make a living fully from pumpkin patch/agritourism activities and antique sales based at their 1881 farmstead. The pumpkin patch has grown to offer a full slate of activities, including a café in a one-room schoolhouse, antique/gift store in the barn, hayrack rides, 40-foot tube slide, trail and many farm-themed play areas.
 
Annette and Bruce Wiles hop-venture started in the summer of 2014, when they established a large-scale hop production in Plattsmouth. The two now own a group of startup companies focused on the production of hops and hemp. Their vision is to establish a well-managed enterprise that provides farmers with high-value crops, produced on small acreages, within a system that returns the majority of the crop value back to the grower and provides high-quality products while maximizing environmental stewardship through sustainable practices.
 
Additionally, workshop attendees will have the opportunity to attend educational sessions with keynote speaker Jeremy Fontana. Fontana has been the owner of Au Diable Vert, a nationally recognized private wilderness park, since 2005. Along with his heavy community involvement, Jeremy manages Au Diable Vert full time and focuses on introducing new innovative activities and accommodation. 
Jeremy will be conducting two sessions on Thursday, February 27. His keynote presentation will be an inside look at his award-winning, four-season ecotourism destination, Au Diable Vert. His concurrent break-out session will discuss the making of Night Sky Odyssey, a dark skies augmented reality astrotourism experience.
 
Additional information regarding registration, lodging and a full schedule can be found here:  https://visitnebraska.com/industry-events/agritourism-adventure-travel-workshop 
For more information about travel, events and unique destinations in Nebraska, order your free travel guide today at VisitNebraska.com. Then stay connected with Nebraska Tourism on our Visit Nebraska Facebook page, on Twitter, on Pinterest, on Instagram and on YouTube.
 
The mission of the Nebraska Tourism Commission is to expand Nebraska's dynamic and diverse travel industry making it more viable by creating awareness, attracting increased visitors which results in greater tourism revenue and economic gain throughout the state. To learn more, go to VisitNebraska.com.
####