Nebraska Tourism Industry applauds new marketing initiatives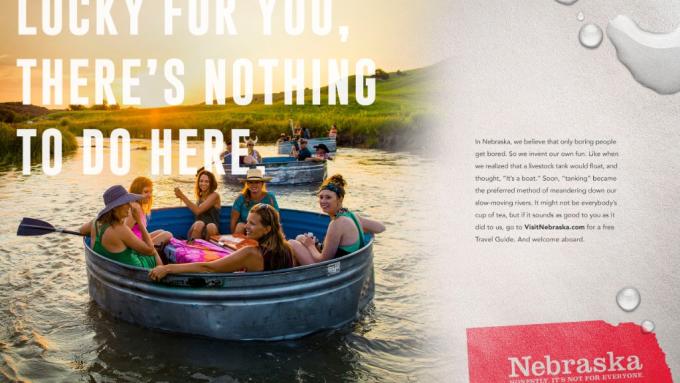 FOR INFORMATION, CONTACT:
Erin Lenz at 402-326-9941, or [email protected]
Jenn Gjerde at 402-525-4455, or [email protected]
FOR IMMEDIATE RELEASE
LINCOLN, Neb. (October 18, 2018) – The Nebraska Tourism Commission unveiled their new marketing campaign to the tourism industry on Wednesday, October 18 at the 2018 Nebraska Tourism Conference. The new campaign addresses people's preconceived notions about the state as a travel destination using self-deprecating humor.
"We are pleased with the reaction to yesterday's announcement on our upcoming marketing campaign. The emails of praise and requests for t-shirts have been overwhelming," said Jenn Gjerde, Nebraska Tourism Commission marketing manager.  Hopefully, Nebraska Tourism can build on this momentum, letting more and more people know about the odd charm that comes with visiting our state."
As of 4 p.m. on October 18, media coverage surrounding the new campaign has reached a potential of 384 million people, an advertising value worth over $3.5 million. Many tourism industry professionals had positive things to say about the commission's efforts.
"I want to figure out how we can best tag along, how Omaha fits in this brand positioning. I'm excited, especially about the voice, because we've sort of tested it out on some social media and we know we love it when we talk in this quirky, honest kind of voice and so this has sort of inspired me to go back to our ad agency and see how we can tag along."
Deborah Ward, Vice President of Marketing & Communications, Visit Omaha
"I loved it. I absolutely loved it.  It's perfect, it's exactly what Nebraska people are and it's exactly what we feel and it is our core value to the T."
Kirsten Parker, Executive Director, Golden Spike Tower & Visitor Center
"I just thought the campaign was absolutely brilliant. This is what Nebraska needs and I can't wait to see more."
Dipra Jha, Associate Professor of Practice and the Director of Global Engagement for the Hospitality, Restaurant and Tourism Management Program at the University of Nebraska - Lincoln
"I think the work that the commission has done is outstanding. I know it's a work in progress and I'm really kind of excited to see it work out for itself."
John Stinner, Nebraska State Senator
"I think it's a new way to think outside the box. I think it really plays into what people think of Nebraska but also using that self-deprecating humor to have fun with it and bring people into the state."
Abby Schademann, Marketing and Events Director, Wayne Area Chamber and Economic Development
"I think it's hilarious. If you can't laugh at yourself, you can't laugh."
Tracie Simpson, Convention Services Coordinator, Lincoln Convention and Visitors Bureau
"I thought it was edgier than what I expected. A little bit more innovative and I'm excited to see how it's going to work. I think every campaign has great potential and I think this one really listened to the audience and that's great."
Lori Paulson, Executive Director of the Nebraska Winery and Grape Growers Association
"I think it's well thought out. It's based in truth. I think it will capture the attention of target market people that want to travel here. I'm excited to see where it goes and I think the idea has depth."
Brad Mellema, Executive Director, Visit Grand Island
"As an industry professional I really appreciate the new campaign and I think it's going to hit home for a lot of visitors. I think that they are going to be receptive to the boldness of the campaign and the humor that it brings. It's just a really refreshing campaign and I'm really looking forward to seeing what the results look like."
 Kristina Reeves, Tourism Director, Discover Northwest Nebraska
"Honestly, it's perfect. I think it's great, it's not as edgy as what everybody was talking about, I think it fits us just perfect."
Dan Watermeier, Nebraska State Senator
"The campaign reflects who we are. We are honest. We are not for everyone. But those who take the time to find out who we are, are going to be very pleasantly surprised."
Carol Schlegel, Tourism Director, Red Willow County Tourism
"I'm very excited for this campaign. I love how eye-catching the advertisements are and the out of the box thinking that went into creating them. Traveling in Nebraska is truly appreciating the experience, being with your friends and family, creating those memories."
Traci Jeffrey, Executive Director, Norfolk Area Visitors Bureau
 "I think the campaign is fantastic. I'm totally excited, I think it describes Nebraska perfectly."
Pam Frana, Nebraska City Tourism & Commerce
"I think it's cool. I think it's neat to put a little humor in the advertising and it will be a good message outside of the state of Nebraska"
Jim Steele, President, South Sioux City Area Chamber of Commerce and Tourism
"I'm just kind of ornery enough and Nebraska enough and independent enough that I loved them. They struck a chord with me. I liked the honest bit. I'm the biggest supporter of Nebraska because I love Nebraska and what we are."
Pat Coldiron, Owner of Liberty House Bed & Breakfast
"I think it's great. I found myself cheering up because it really shows the heart of what Nebraska is and just really captures that. I'm excited to see it grow our tourism industry and change that perception that there's nothing to do here."
Angie Bruna, Director, Beatrice Area Chamber of Commerce
 
 
 
 
 

For more information about travel, events and unique destinations in Nebraska, order your free travel guide today at VisitNebraska.com. Then stay connected with Nebraska Tourism on our Visit Nebraska Facebook page, on Twitter, on Pinterest, on Instagram and on YouTube.
 
The mission of the Nebraska Tourism Commission is to expand Nebraska's dynamic and diverse travel industry making it more viable by creating awareness, attracting increased visitors which results in greater tourism revenue and economic gain throughout the state. To learn more, go to VisitNebraska.com.

####