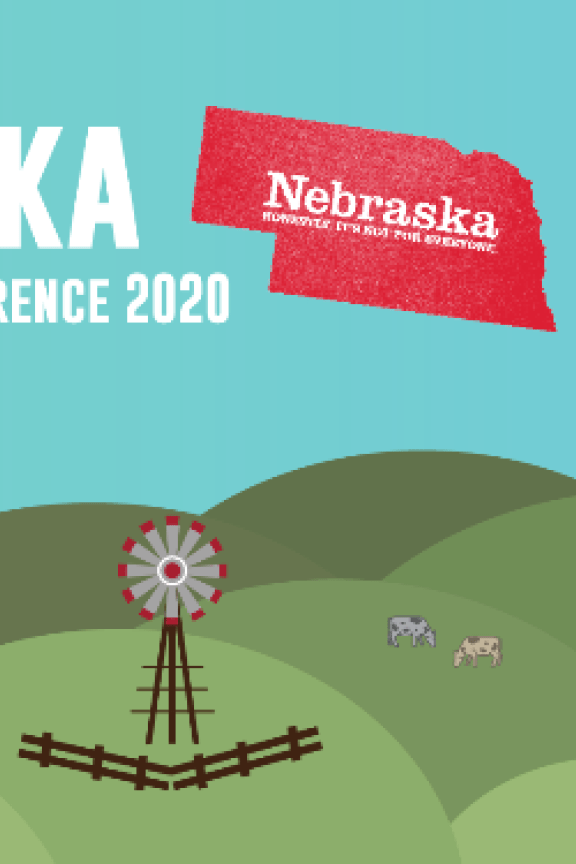 Register now for the 2020 Virtual Nebraska Tourism Conference
PRESS RELEASE
FOR INFORMATION, CONTACT:
Press Contact: Erin Lenz at 402-326-9941, or [email protected]
Conference Contact: Callie Austad at 402-432-1152 or [email protected]
FOR IMMEDIATE RELEASE
LINCOLN, Neb. (September 22, 2020) - Registration is now open for the 2020 Virtual Nebraska Tourism Conference. The annual conference will be held entirely online this year from October 20-22 and each session is free to all attendees.
 
"While we wish we were seeing all of our tourism industry members in person, we're happy to still be offering educational opportunities and offering them for free in a time when we know budgets are tight," said John Ricks, Nebraska Tourism Commission executive director. "We've set up some great speakers with important, relevant topics and we encourage you to take the time to talk with your Board Commissioner on Thursday morning."
 
Attendees must register for each session they plan on attending. The full virtual conference schedule is below along with each session's unique registration link. All sessions are free to attend. Session descriptions can be found online at: https://visitnebraska.com/industry-events/2020-nebraska-tourism-conference
 
Tuesday, October 20
9:30 a.m.            
Conference Welcome + A Roadmap for Success Nebraska Tourism's New 5-Year Strategic Plan 
John Ricks, Nebraska Tourism Commission; Jennifer Simmons, Brand + Lever
Register Here
 
1:30 p.m.            
The Consumer Sentiment Roller Coaster: Where are we headed now?
Erin Francis- Cummings, Destination Analysts
Register Here
 
3:30 p.m.            
Nebraska Travel Association (NETA) Meeting
Join meeting at 3:30 p.m. here
 
Wednesday, October 21
9:30 a.m.            
Making Room at the Table: The Benefits of Diversity & Inclusion
Franklin Thompson, Omaha Human Rights & Relations and UNO College of Education
Register Here
 
1:30 p.m.            
Editorial Impacts & Inspiration for 2021
Amber Steffens, TURNER PR; Whitt Kelly, TURNER PR
Register Here
 
3:30 p.m.            
Sports Nebraska Meeting
Join meeting at 3:30 p.m. here
Nebraska Festivals & Events Meeting
Join meeting at 3:30 p.m. here
 
Thursday, October 22
9:30 a.m.            
Commissioner Networking Session
Each commissioner will have a separate zoom meeting link to join at 9:30 a.m. Visit
https://visitnebraska.com/industry-events/2020-nebraska-tourism-conference for the
list of 11 Nebraska Tourism Commissioners, their counties, and zoom link for each
session.
 
1:30 p.m.            
Nebraska Tourism Industry Awards
Jon & Taryn Vanderford, 1011 Now
Register Here
For more information about the virtual conference and each session, please visit https://visitnebraska.com/industry-events/2020-nebraska-tourism-conference.
For more information about travel, events and unique destinations in Nebraska, order your free travel guide today at VisitNebraska.com. Then stay connected with Nebraska Tourism on our Visit Nebraska Facebook page, on Twitter, on Pinterest, on Instagram and on YouTube.
 
The mission of the Nebraska Tourism Commission is to expand Nebraska's dynamic and diverse travel industry making it more viable by creating awareness, attracting increased visitors which results in greater tourism revenue and economic gain throughout the state. To learn more, go to VisitNebraska.com.
####