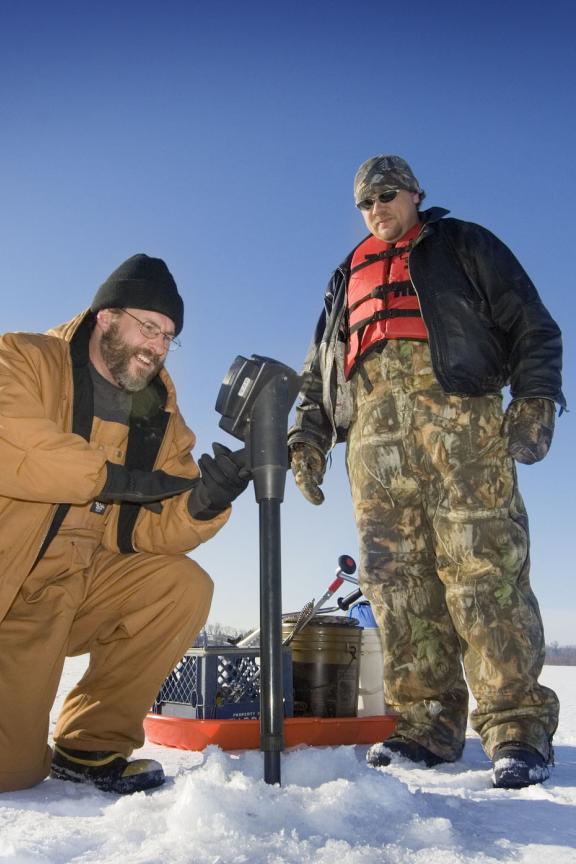 Ice Fishing
Time to Drop a Line
Discover Nebraska Ice Fishing Hot Spots
With over 400 public waters to choose from, Nebraska offers some of the best ice fishing spots in the country. Depending on the weather, the state's premier ice fishing season normally runs from December through February. Anglers travel from all over to fish Nebraska waters, which tend to have far less snow covering the ice than those in more northern locations. Across Nebraska's lakes, reservoirs, pits and ponds, anglers can expect to find big panfish species like bluegill, perch and crappie, as well as largemouth bass, northern pike, walleye and even channel catfish.
Explore this page to discover the best ice fishing spots in the state, as well as information on fishing permits and ice fishing workshops.
Nebraska Sports & Outdoors
Most Popular Ice Fishing Spots in Nebraska
Resources from the Nebraska Game and Parks Commission
To fish in any of Nebraska's public waters, anglers are required to purchase a fishing permit from the Nebraska Game and Parks Commission. Purchasing information can be found at here.
If you're new to ice fishing or just looking for a few new tips and tricks of the trade, be on the lookout for free clinics from the Game and Parks Commission. Each January, the commission holds free ice fishing clinics for all levels of anglers.
Nebraska is on the southern edge of the ice fishing belt, so ice conditions can vary depending on the weather. Always take precaution and remember to practice ice safety. More safety tips can be found on the Game and Parks Commission website.
Wildlife
Bird Watching
Fishing
Campgrounds & RV Parks