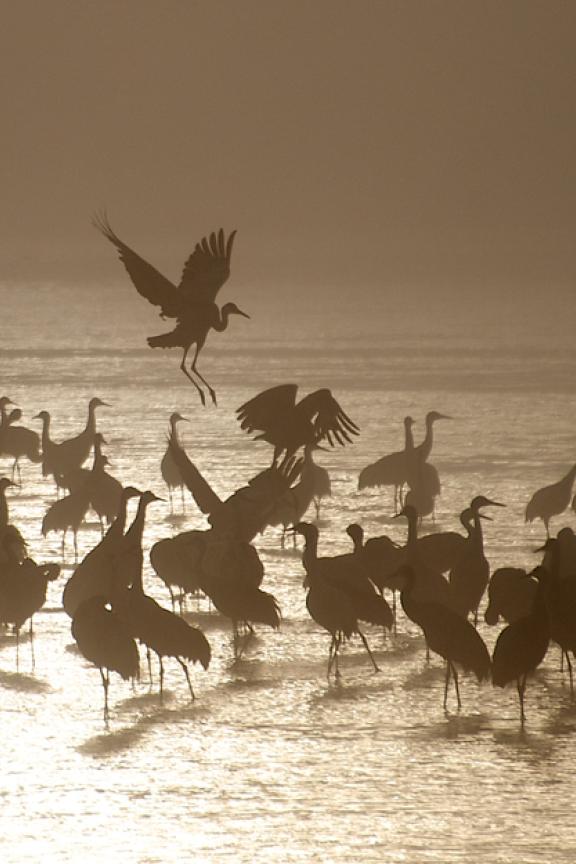 Experience Nebraska's sandhill crane migration
Every March, more than half a million sandhill cranes visit Nebraska's Platte River Valley to rest and refuel before continuing their journey. As the sun rises, listen to the sound of thousands of birds waking up for the day or view the cranes at sunset as they return to the river for the night. Here are a few ways to experience the sandhill crane migration in Nebraska this year.
Rowe Sanctuary
Take a guided tour with Rowe Sanctuary in Gibbon and experience the cranes at sunrise or sunset from viewing blinds. Rowe Sanctuary also has a crane cam covering a 5-mile stretch of the Platte River that you can watch at all hours of the day.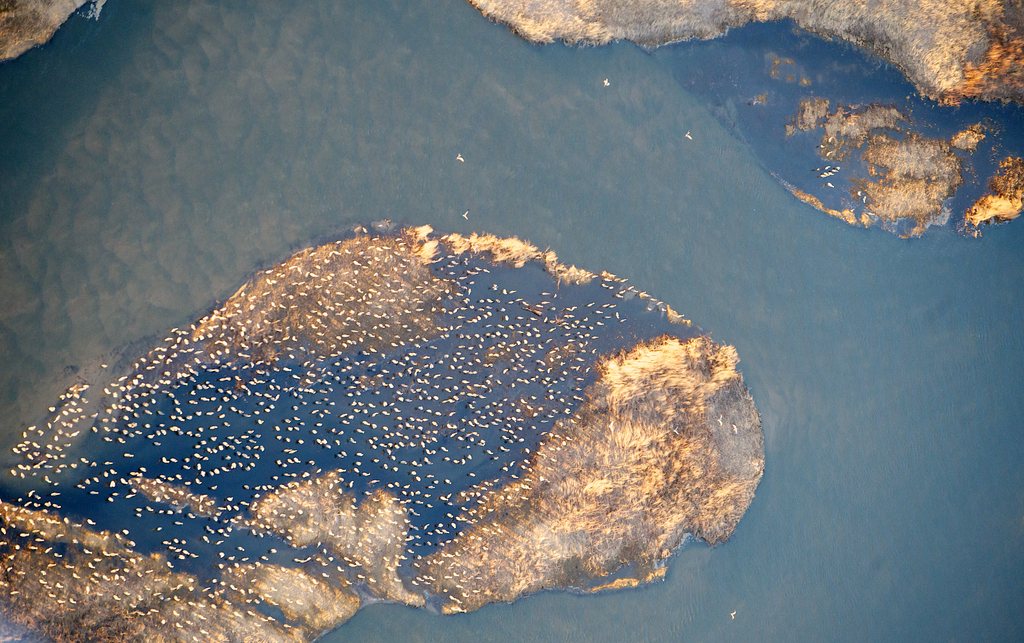 Dusty Trails
Dusty Trails in North Platte offers a couple of sandhill crane viewing experiences. Book a private guided viewing blind tour in the morning or evening. Or experience the sandhill cranes during their most active time of day for courtship behaviors during an afternoon bus tour. 
Crane Trust Virtual Tours
Can't make it to Nebraska for the 2021 crane migration? View the natural phenomenon from the comfort of your home. Virtually guided tours begin 30 minutes before sunrise and an hour before sunset each day. Not only do you get to see the majesty of the sandhill cranes from home, you can also ask the experts questions as you're watching.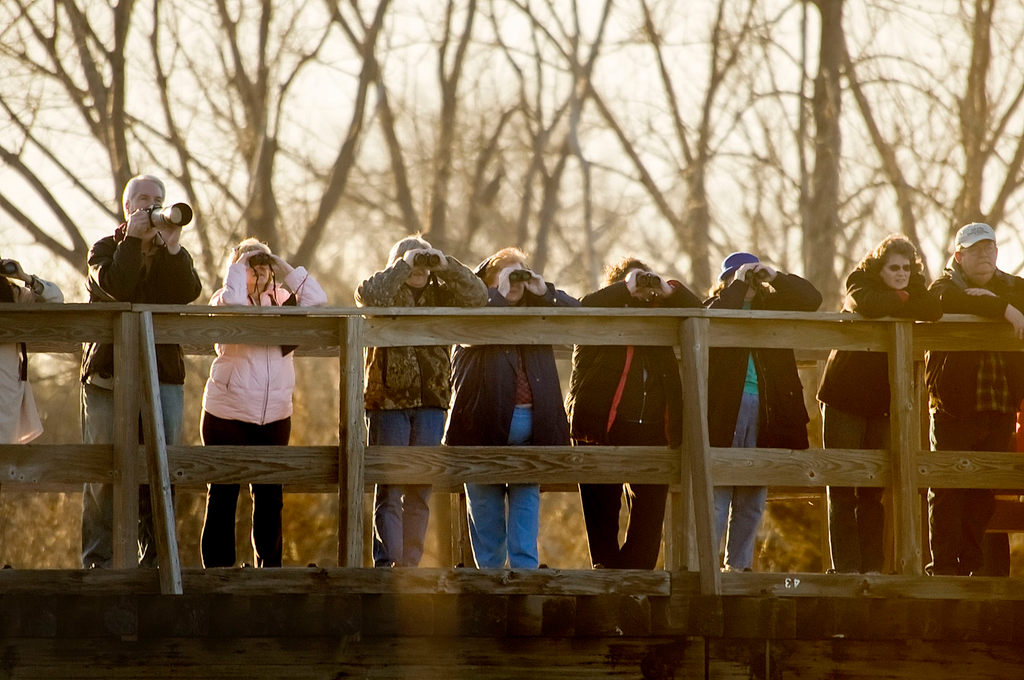 Fort Kearny State Recreation Area
Fort Kearny State Recreation Area provides the best over-river viewing of the cranes. View the sandhill cranes from the Fort Kearny Hike-Bike trail bridge located on the east side of the park and .3 miles from the parking lot. Get to the bridge a half hour before sunrise and sunset for the best view. 
Public Viewing Decks
There are two public viewing deck locations on the Platte River provided by the Central Platte Natural Resources District (CPNRD). 
•    Richard Plautz Crane Viewing Site: 1.5mi south of I-80 Exit 285 (Gibbon)
•    Alda Crane Viewing Site: 2mi south of I-80 Exit 305 (Alda)
These viewing decks provide a safe and bird-friendly way to view the cranes. The best viewing times are one hour before sunrise and one hour before sunset. Download the Sandhill Crane Viewing Map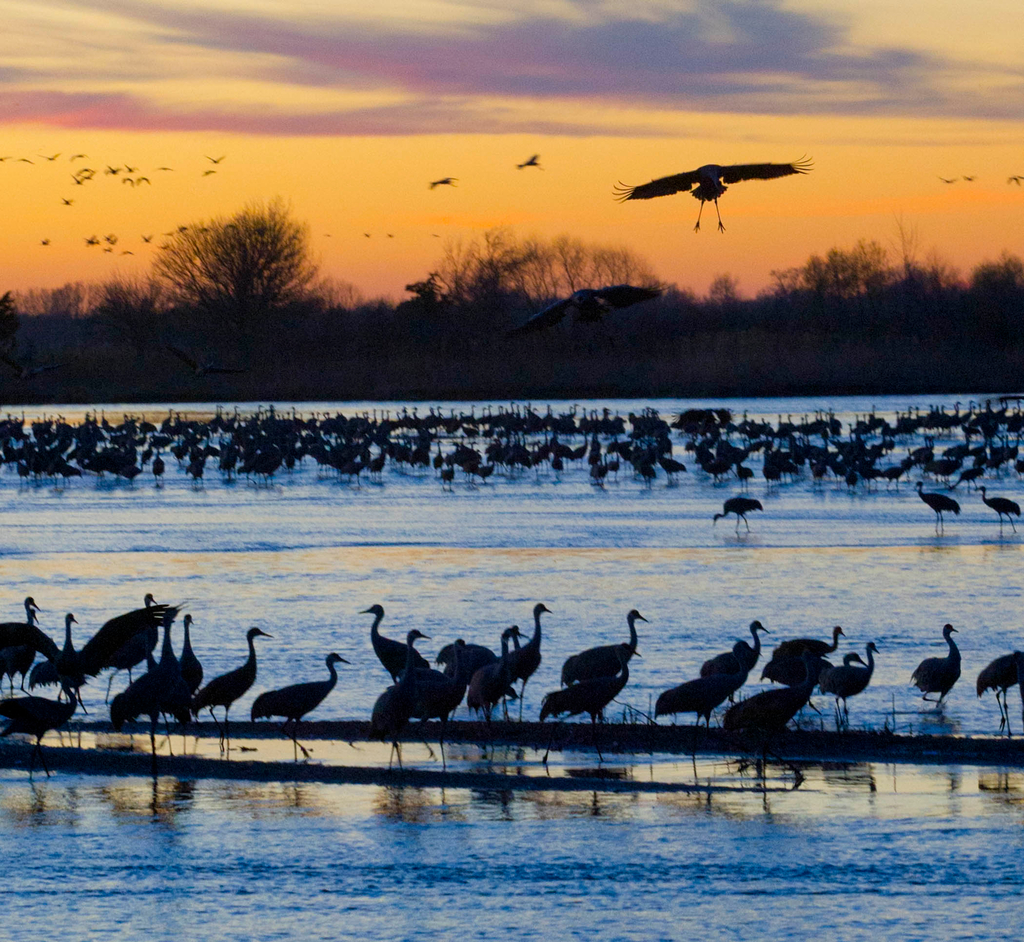 Rainwater Basin Visitor Center
Head to the Rainwater Basin Visitor Center in Funk, Nebraska to view Sandhill cranes and a plethora of other species along the wetlands during the spring migration. While there, check out the Funk Waterfowl Production Area, the largest WPA within the Rainwater Basin that is known for the occasional occurrence of whooping cranes, a critically endangered species. 
Birdwatching Etiquette and Tips
Use designated viewing sites to watch the birds, respecting private property
Don't attempt to approach birds on their roosts or as they feed in the fields.
Dress warm! Weather conditions can change rapidly so plan accordingly.
Bring binoculars to get a more close-up view of the cranes.
More information on birdwatching etiquette can be found here: https://nebraskaflyway.com/birdwatching-safety-etiquette/