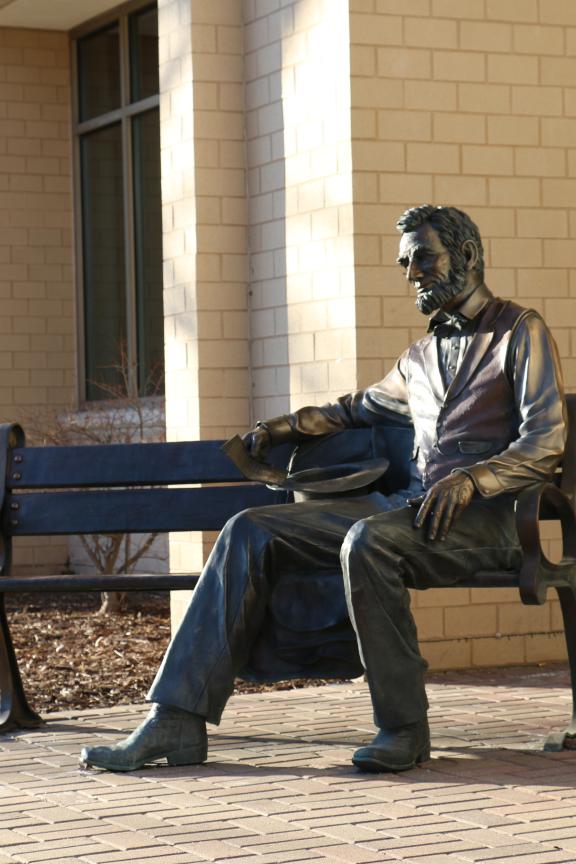 Explore Nebraska's City Named For The 16th President
Explore Nebraska's City Named For The 16th President
For American history buffs or fans of Abraham Lincoln, the 16th President of the United States, a trip to Nebraska's capital city should be on the agenda. Lincoln, Nebraska is the largest city in the world with Lincoln's namesake and there are a lot of tributes to the top hat-wearing leader to be found there. Grab some lunch at Honest Abe's and then go for an Abe memorial scavenger hunt throughout the area.
Honest Abes
Honest Abe's, a burger joint, makes incredibly and honestly tasty burgers for honest people. The theme of the restaurant: Abraham Lincoln. Stop in at one of their four locations for a bite and take in all of the Abraham Lincoln décor and merchandise.
Lincoln Visitors Center
Stop at the Lincoln Visitors Center in the historic Haymarket and be greeted by a giant Abe Lincoln bobblehead. While there, collect information about destinations in Lincoln and snap a selfie with Abe and some fun props! Use #AbeLNK on social media.
Note: Bobblehead Abe does travel and is not always on-site so call ahead if this is a must-see.
 
Nebraska State Capitol
The Lincoln Monument, on the west side of the State Capitol, is an 8.67-foot tall bronze statue commemorating Abraham Lincoln. The creator of the statue stated he "purposely tried to represent Lincoln bearing the burdens and perplexities and problems of the Great War." The Gettysburg Address is carved in the granite backdrop behind the statue. There is also a depiction of the Emancipation Proclamation on the side of the Nebraska Capitol.
 

City/County Building
The statue of young Abraham Lincoln is located right in front of the Justice and Law Enforcement Center at the City/County Building. Titled the "The Rail Joiner," this statue depicts Lincoln joining two fence rails symbolic of him rejoining the North and South. 
 
Lincoln Mall
Between the State Capitol and the City/County Building is Lincoln Mall. A leisurely walk that includes a bench to sit with Abe Lincoln and Lincoln quotes on bus stops and flower pots.
 

Pioneers Park
Four iconic columns from the Treasury Department in Washington D.C. are now nestled on a beautiful hill overlooking a small lake at Pioneers Park. It has been said that Abraham Lincoln addressed the Union troops from between these very columns while they were still in Washington D.C.
 

Southpointe Pavilions Shopping Center
There are several statues at Southpointe Pavilions Shopping Center commemorating presidents in American history. Abraham Lincoln guards the front door of Scheels from his bench and is always ready to sit and relax with shoppers. Head inside and you'll find a lifelike animatronic Abe Lincoln reciting the Gettysburg Address.