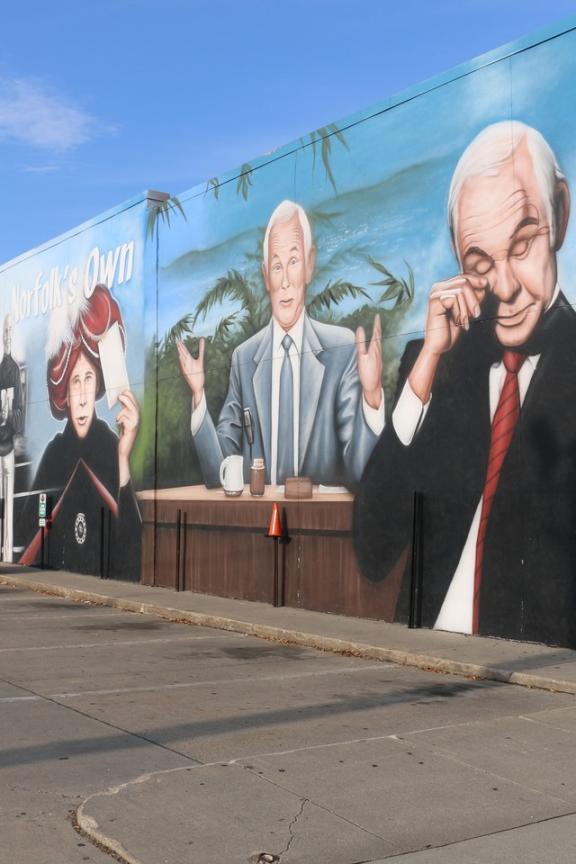 Footsteps of Famous Nebarskans in Show & Screen
From movie stars to Old West showmen, Nebraska holds a history of past celebrities who were born in or had ties to the state. You'll cover a lot of ground in this two-day road trip that gives you insight into the lives and worlds of just a few of them. It spans from Norfolk to North Platte.
Day 1
Dowtown Coffee Company
302 W Norfolk Ave
Norfolk, NE
United States
(402) 844-3699
Enjoy a cup of gourmet coffee in a relaxing space to start your day!
Elkhorn Valley Museum
515 Queen City Blvd
Norfolk, NE
United States
(402) 371-3886
This museum offers a chance to learn about the legacy of entertainment legend Johnny Carson. You'll see the Johnny Carson Gallery, which showcases his 30 years on the Tonight Show and his six Emmy Awards. There are also plenty of other historical exhibits and activities for the whole family.
Johnny Carson Childhood Home; Johnny Carson Mural
306 S 13th St
Norfolk, NE
United States
Drop by to see the star's childhood home before heading downtown to snap your picture with the giant Johnny Carson Mural. You can also peruse the assortments of boutiques and specialty shops while you're in the area.
(Note: Visits inside the home are only available to special tours)
Lunch: District Table & Tap
226 W Norfolk Ave
Norfolk, NE
United States
(402) 316-4788
With panini-style sandwiches, flatbread pizzas and 23 different beers, plus cocktails, this is the perfect lunch stop.
Museum of Major League Baseball
619 Howard Ave
St. Paul, NE
United States
(308) 754-5558
More than 150 baseball players with Nebraska ties or roots have made it to the Major Leagues, and this museum honors each one of them. Whether you want to learn more about all-time greats like Bob Gibson and Grover Cleveland Alexander or brush up on recent and current stars, this stop has displays and artifacts spanning back tot he early days of the sport.
(Note: Open 9:30 am. - 4:30 p.m. on weekdays and by appointment only on weekends)
Dinner: Thunder Road Grill
3335 West Wood River Rd
Grand Island, NE
United States
(308) 382-6986
With brick oven pizzas, beer, wings and burgers, you'll be racing over for some grub at Thunder Road Grill. This racing-themed restaurant is perfect for groups and families.
Dessert: The Chocolate Bar
116 West 3rd St
Grand Island, NE
United States
(308) 675-0064
This is the perfect place to grab dessert, a drink or coffee as the day winds down.
Candlewood Suites
859 Allen Drive
Grand Island, NE
United States
(308) 381-7000
Book a room at Candlewood Suites. This hotel is located in the heart of the city and features excellent amenities such as an indoor pool, a gym, a business center and a basketball court. The guest rooms are also equipped with full kitchens, and the hotel is pet-friendly.