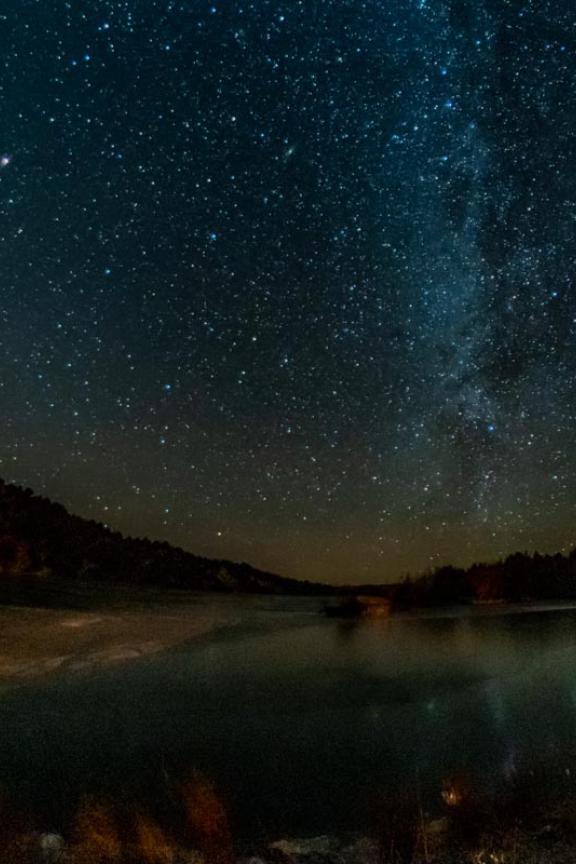 Nebraska Astronomy Trail
Nebraska has ample destinations that offer the dark skies necessary for premium stargazing.  Whether you're an avid astronomer, a meteor marveller, or just hoping to catch your first glimpse of the Milky Way, these stops along the NebraSky Trail will offer you many opportunities to enjoy our state's beautiful nightscape.
Begin your journey in the far southeast corner of Nebraska at Indian Cave State Park. In addition to its namesake sandstone cave formation, this beautiful park is renowned for its stunning fall foliage. Each October, Indian Cave State Park hosts three weeks of fun-filled Haunted Hollow events, featuring hayrides, pumpkin carving and campground decorating contests. If that's not up your alley, nearby Verdon State Recreation Area is a great choice for a more low-key experience.
Next up, head to Nebraska's capitol city, Lincoln, where there are several points of interest nearby.
Public observatories are relatively unusual in the United States, but Lincoln is home to one! Hyde Memorial Observatory in Holmes Park has three high-quality telescopes and one solar telescope devoted exclusively to public viewing. With free admission, Hyde is open every Saturday evening year-round with presentations and programming offered by knowledgeable volunteers.
Half an hour northwest of Lincoln sits a beautiful "sky park" and education complex: Branched Oak Observatory. Branched Oak Observatory is open to the general public and students of astronomy a couple times a month. You can meet with local astronomers to explore the planets, nebulae, star clusters and galaxies live through telescopes both large and small. Public events are always free.
If you're looking for a decent overnight observing option in the metro area, Pelican Point State Recreation Area offers camping an hour's drive north of Omaha. It's close enough for a quick and convenient get-away, but far enough away from Nebraska's largest city that the night sky isn't severely impacted by the lights.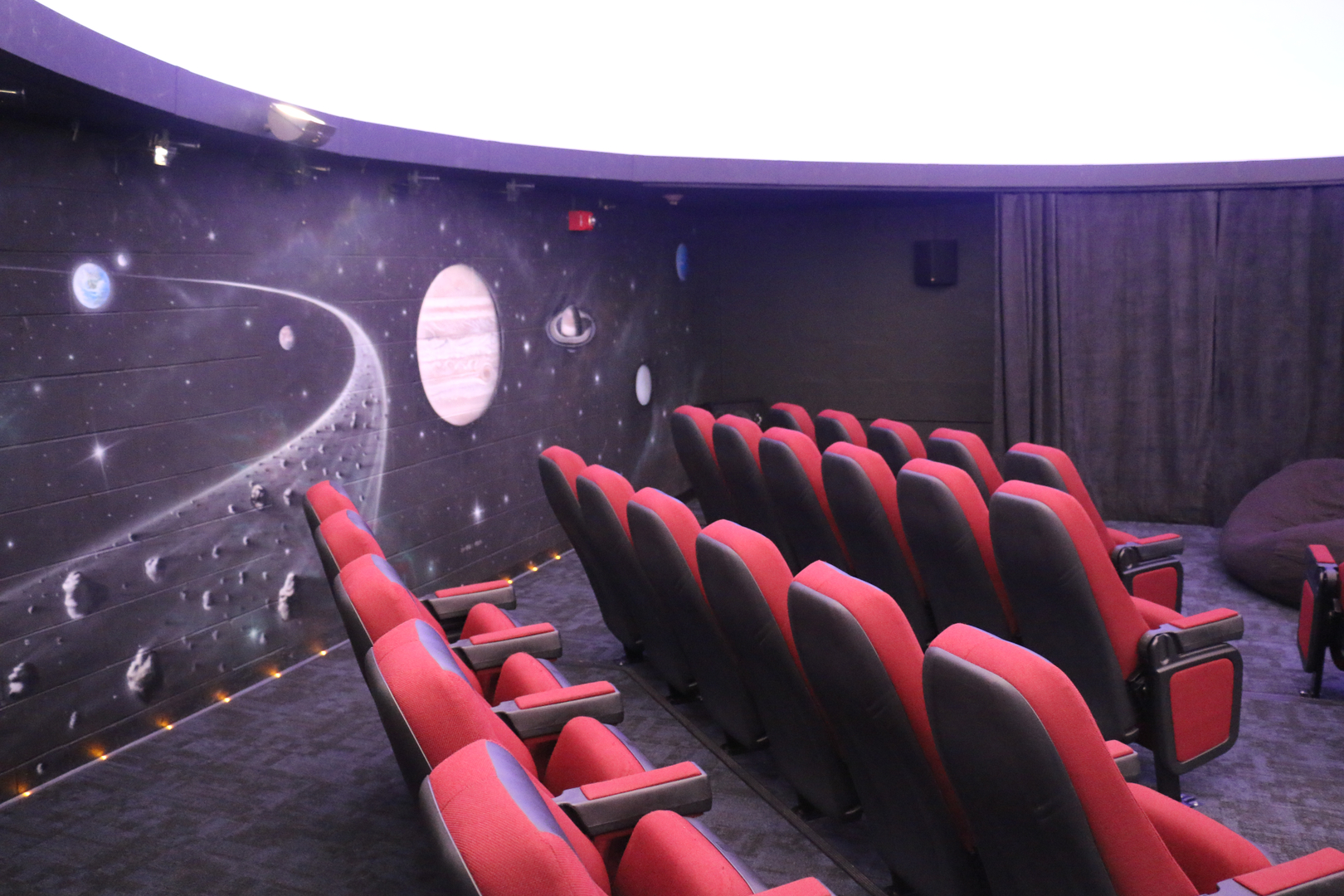 Traveling further north, the next stop is the Fred G. Dale Planetarium in Wayne, Nebraska. The planetarium features a full dome video display of the current night sky, offering a photorealistic view of the constellations you can see during the given time of year. Check out their website for dates and times of Planetarium shows and events.
Keep following the North Star up to just shy of the South Dakota border, where you can plan to overnight at Lewis and Clark State Recreation Area or travel a little further west to Niobrara State Park. If you have the energy to stay up after enjoying the plethora of outdoor activities these parks offer, you'll notice you're really starting to get into dark sky territory!
Next, boogie on over to Honey Creek Observatory in O'Neill, Nebraska. Although privately owned, the primary mission of the facility is to provide a resource for students and the public to experience and enjoy the universe of astronomy. Weather permitting, Honey Creek Observatory opens for guided viewing sessions every month.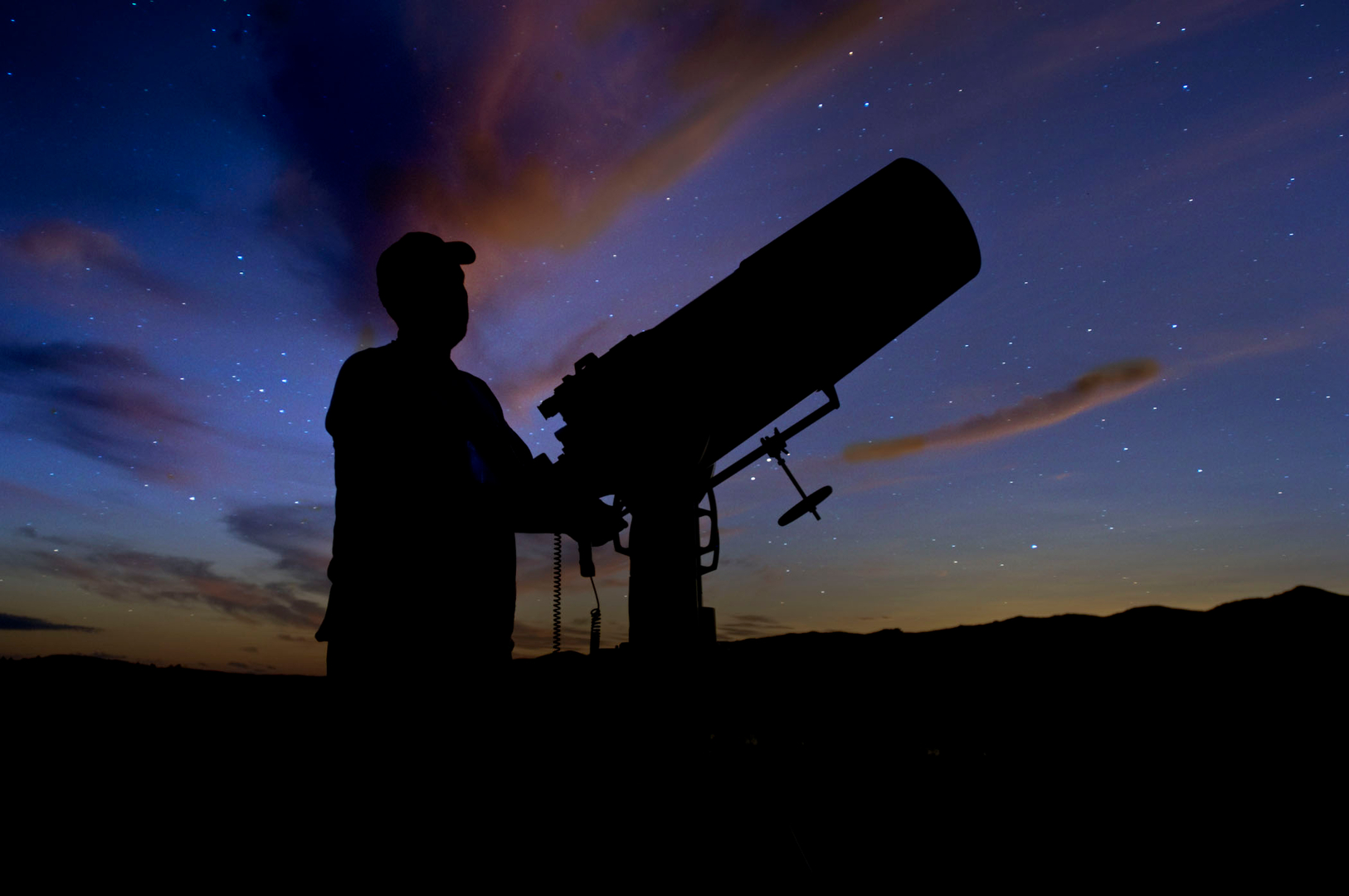 From there, journey west into the breathtaking Sandhills region of Nebraska. The largest vegetated sand dune formations on the North American continent, the Sandhills are vast, tranquil, and largely unpopulated. With Bortle 1 to 2 skies year-round, the Sandhills offers some of the darkest skies you may ever experience. Here, some nights are so dark and the stars so bright that the Milky Way casts a shadow! You'll be spoiled with superb stargazing anywhere you choose to overnight, but a few great options include: Long Pine State Recreation Area, Keller Park State Recreation Area, Long Lake State Recreation Area, Merritt Reservoir State Recreation Area, and Victoria Springs State Recreation Area. 
Merritt Reservoir is the long-standing host site of the Nebraska Star Party, a weeklong gathering of astronomy hobbyists featuring field schools, guest speakers, and nightly observing. The event is a great opportunity for novices or newcomers to gain new knowledge and insights into astronomy from seasoned enthusiasts. There is never a shortage of passionate individuals willing and eager to share their telescopes and expertise with other attendees. With the help of Star Party planners, the park has also recently undergone a comprehensive lighting retrofit to further protect its pristine nightscape and also begun offering dedicated programming to educate visitors on the negative impacts of light pollution.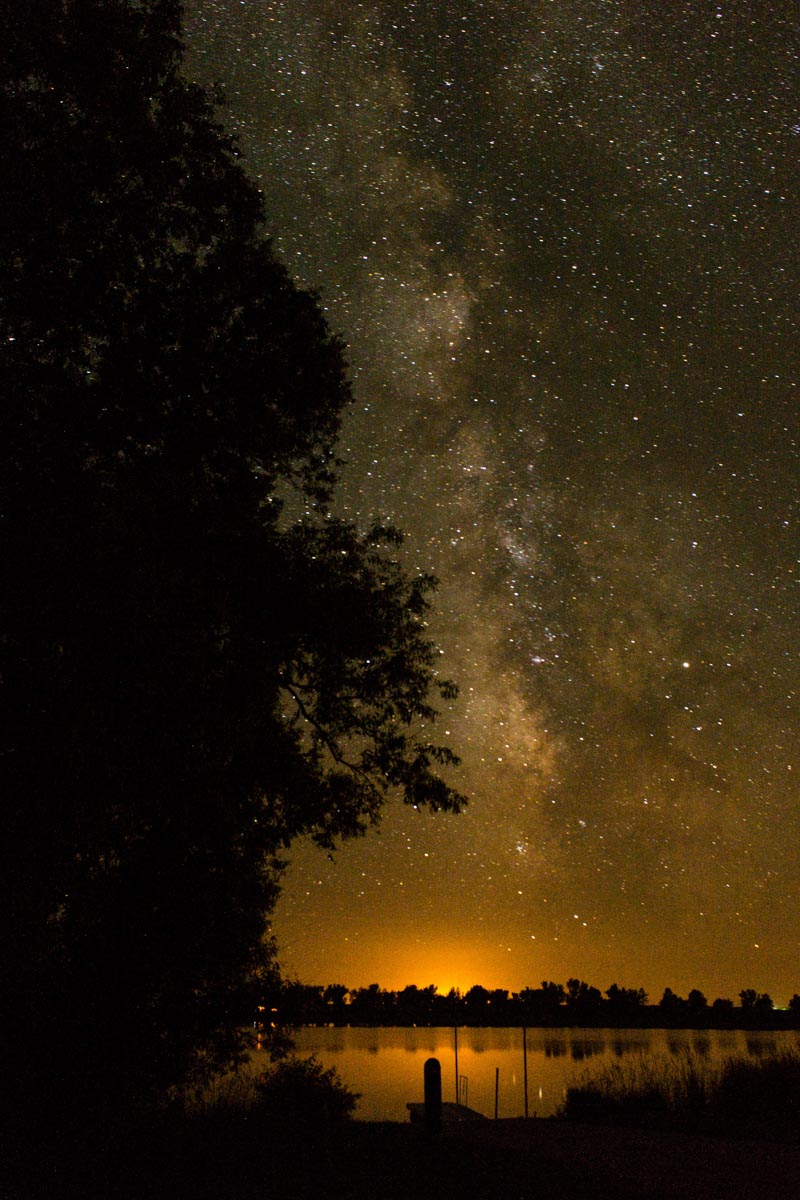 Next, head further west into the Pine Ridge region in northwestern Nebraska. The geography of the Pine Ridge makes camping in the northwestern part of the state an altogether different experience with enchanting forest buttes, ridges and canyons. Cottonwood Lake State Recreation Area, Walgren Lake State Recreation Area, and Box Butte Reservoir State Recreation Area are a sampling of camping destinations in northwest Nebraska that are sure to satiate a stargazer's desire for darkness. Although closer to city lights, Fort Robinson and Chadron State Park are also good options.
Looking for a more immersive experience? Our Heritage Guest Ranch invites you to accompany them in carrying out their daily tasks, such as fixing fences, haying, lambing and calving on their family ranch before laying your head to rest under a blanket of stars. The ranch is bordered by Oglala National Grasslands, which includes two additional points of interest: Toadstool Geological Park and Campground and Hudson-Meng Education and Research Center. Named for its unusual geological formations shaped from upended chunks of broken sandstone scattered throughout deeply eroded hills of ancient volcanic ash, Toadstool is best experienced at sunrise or sunset. There is a small campground at Toadstool for those wishing to enjoy the full depth of colors in the layered hills during dawn and dusk. The three-mile (one way) Bison Trail connects Toadstool to the Hudson-Meng visitor center where visitors can tour the massive bonebed of the Bison antiquus (extinct bison) that died.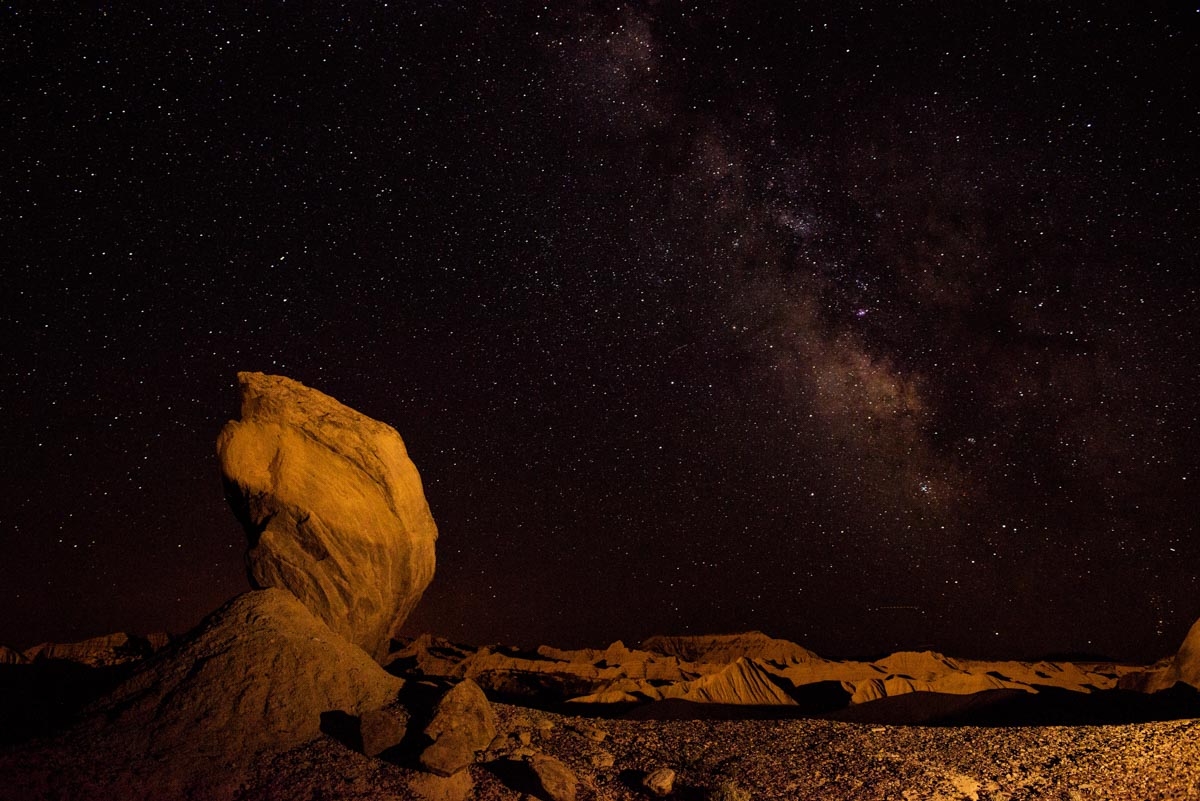 Although this is a spectacularly star-studded list of astronomy highlights in Nebraska, the state is filled with so many more! So, regardless of which path you're traveling, your encouraged to slow down, always take the scenic route, and look up at the stars.
Header image photo credit: Nebraskaland Magazine/Nebraska Game and Parks Commission