Relish in Big City Tastes in Grand Island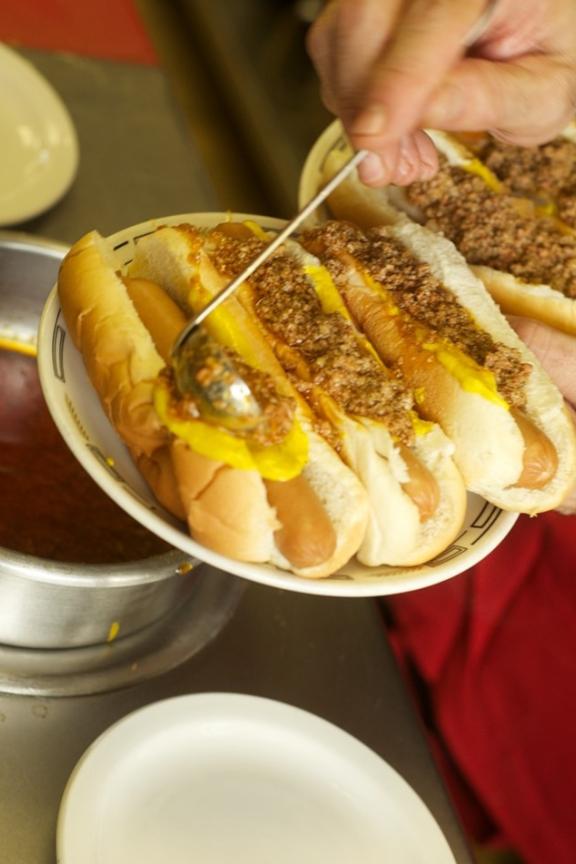 Serving hundreds of hot dogs a day and dicing over 50lbs of onions weekly, Coney Island Lunch Room in Grand Island is a family run community staple. Meet George, the current owner, to learn about the restaurant's history and how much the public enjoys coming in for a classic coney dog.
What is Coney Island Lunch Room and how did it start?  
George: My grandfather bought the existing business in 1933 for $600. Later he bought the building. We serve lunch, but also have breakfast options in the morning. Mostly we're a lunchroom. Our coney dogs and chili are the most popular. 
A local: A coney dog is a hot dog with a finely ground, loose meat topping, with a special chili seasoning.  
What is the restaurant's family history? 
George: My grandfather bought the business and later my dad bought it from him, my aunt worked here too. My dad didn't want us (George and his sister) here growing up, we were able to play ball and do things. We bussed tables and washed dishes sometimes, I started working here in the mid-80s. Dad kept working as long as he could, my parents are in their 90s now.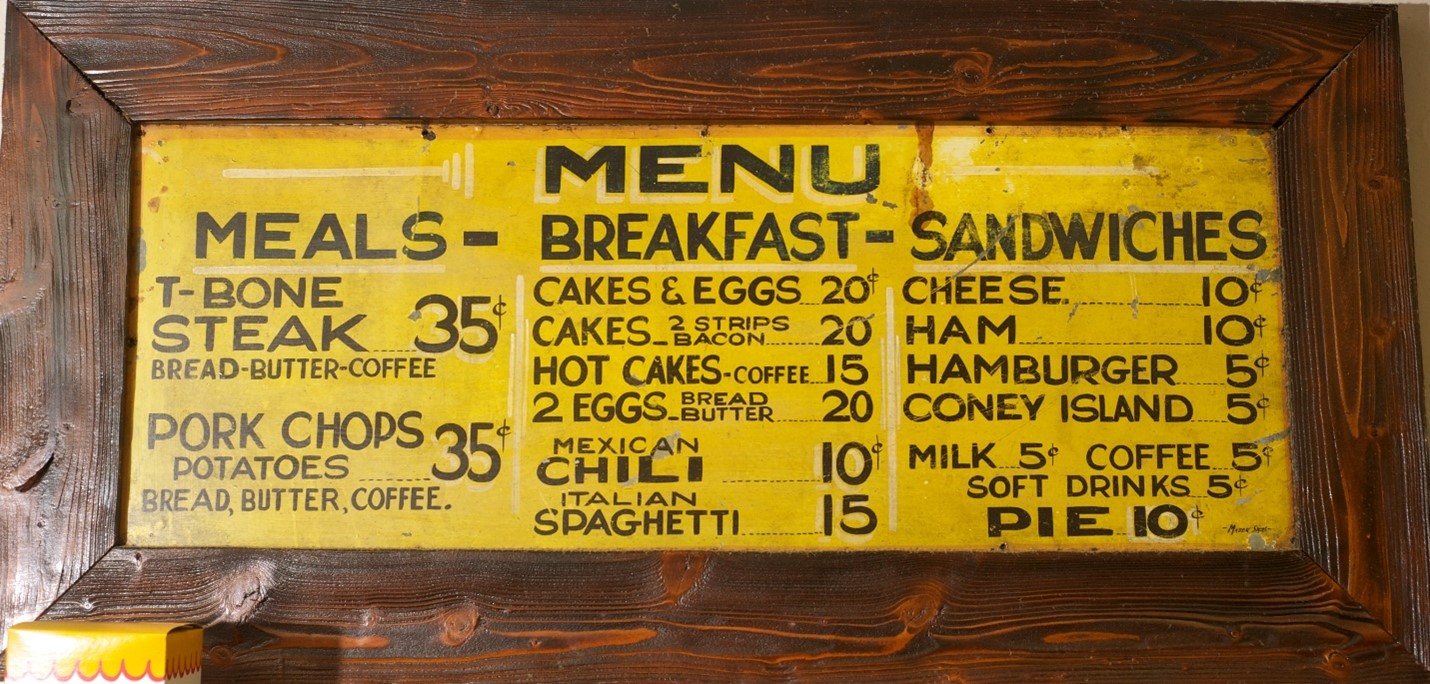 What's the secret special way to order a coney hot dog here? 
George: Coney - mustard, onion and chili 
A local: When ordering people will say something like "two coneys, fries and a chocolate malt," then the waitress will say "two on one with everything" when referring to one person ordering two coneys for themselves or "three on two" for someone ordering two with their friend ordering one. It's all about how many go on each plate. George serves up the coneys and chili and fries the burgers at the front of the restaurant so he can also run the register. Customers don't get a bill to take to the register, they just come up and say what everyone had. It's an honor system that's worked for generations.
What do you think has kept Coney Island as a Grand Island staple for so long? 
George: Quality of food and consistency. Fresh cut potatoes for the fries and fresh cut onions for the coneys.  
A local: George and his dad before him remember you. They are everyone's friend, which makes the place nostalgic. Plus, coneys, fresh fries and a real chocolate malt, real ice cream mixed in an old malt mixer, is a delicious meal. It's a kind of comfort food that isn't trying to be anything other than what it is.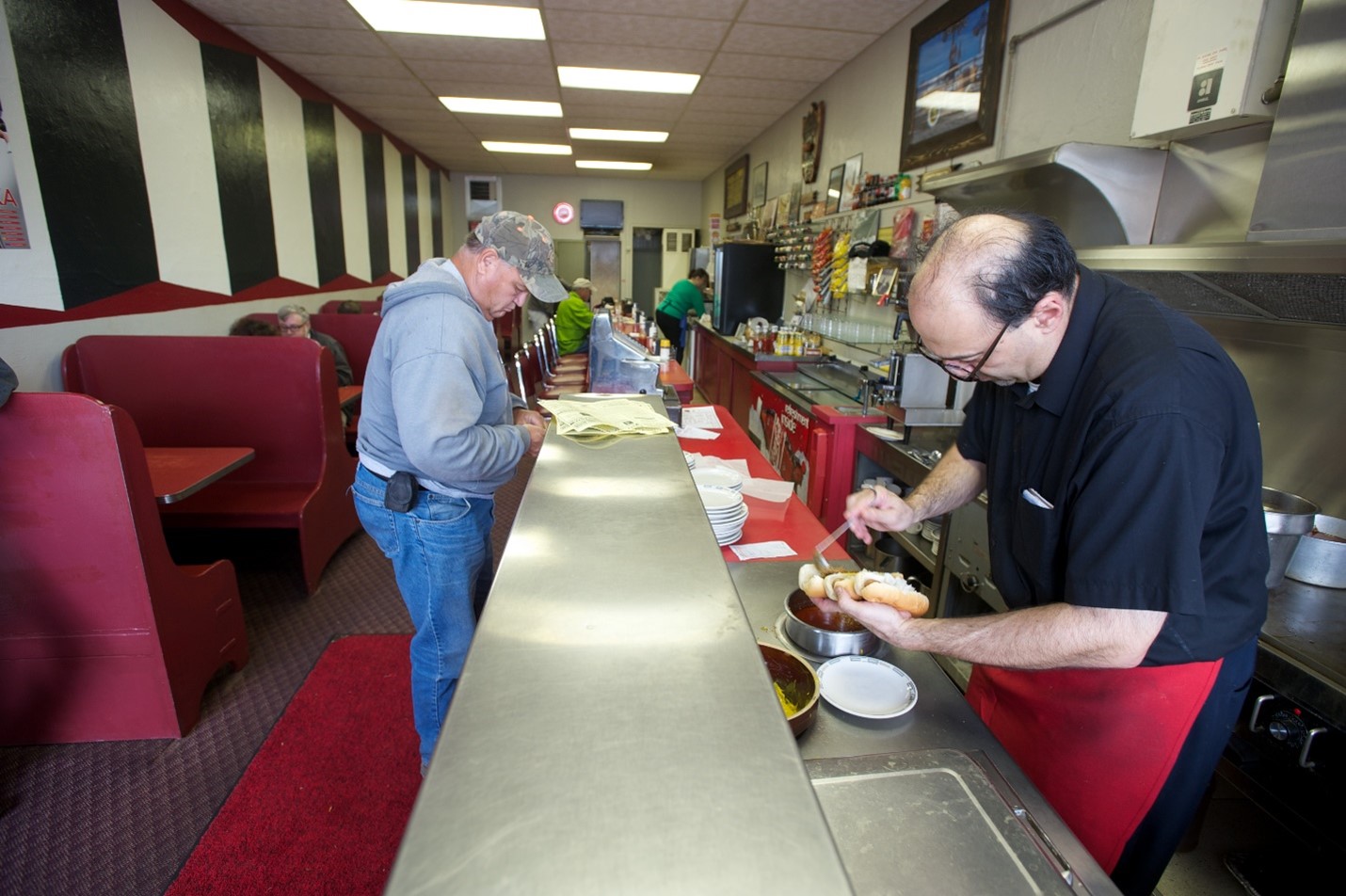 What is a favorite Coney Island Lunch Room memory? 
George: We get requests to ship food. One time a daughter called to ship to California to her dying dad. CNN picked up the story.
A local: That isn't an isolated incident. I recently went to a funeral where the daughters said one of the last things their dad requested was a Coney Island malt. They also handed out coney dogs to everyone at the funeral because of their dad's love for the place and food. 
Do you have an annual hot dog eating contest? Joey Chestnut style? What's the record? 
George: This year (2022) we'll have our 8th. We didn't used to have a time limit; people bought all the coney dogs they could eat in one sitting. The guy ate 24 until his dad said he couldn't afford to buy any more. Now there's a 10-minute time limit. The record now is 15. For contest dates follow the Coney Island Facebook Page.
For more on this town favorite, a locally published book, "What a Life: The Coney Island Story," can be purchased at Stuhr Museum of the Prairie Pioneer.
Bonus:
The Coney Car, featuring George, can be found at Fred's Flying Circus.

For more Grand Island ideas check out this itinerary!
All images courtesy: Grand Island Convention & Visitors Bureau