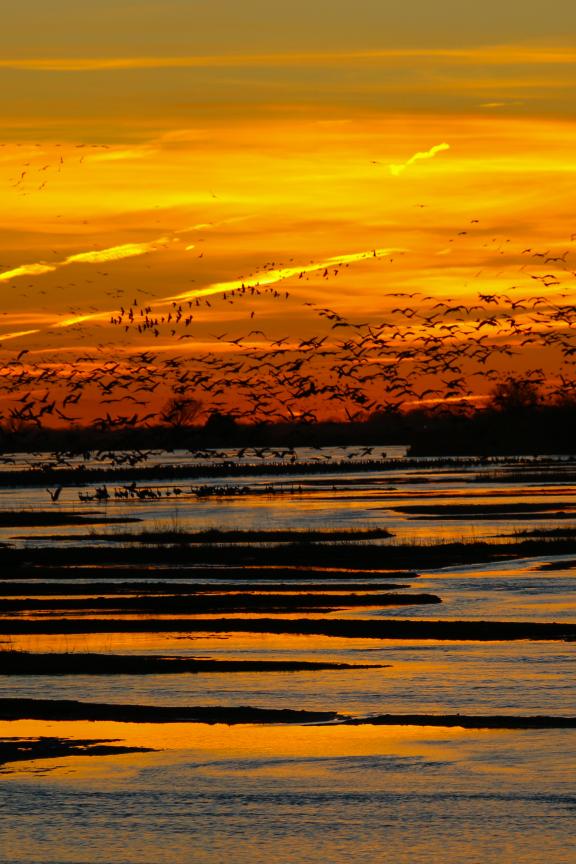 Public Access Sites for Self Guided Crane Viewing
Were you a little late in booking a blind tour and now they're sold out? Or maybe your schedule isn't compatible with the crane tour times being offered? Perhaps you're just wondering if there are any public places where you can see the sandhill cranes. Self-guided crane viewing might be your ticket to catch a glimpse of the spring migration on your own time!
Public Access Sites and Roadside Turnouts
The best times for viewing cranes on the river is sunrise and sunset, while daylight hours are ideal for driving tours to watch sandhill cranes feed and fraternize in nearby fields. The cranes take flight at dawn in search of food and return to the river's protection at dusk. They mostly consume grain left in corn fields, where they spend the day eating and socializing.
If you're hoping to view cranes on the Platte River, plan to be an early riser or sundowner and check out the free viewing decks located riverside in Alda and Gibbon. These decks provide a safe and bird-friendly way to view sandhill cranes during their spring migration, as well as other waterfowl and wildlife throughout the year. Free parking is available at each of the decks.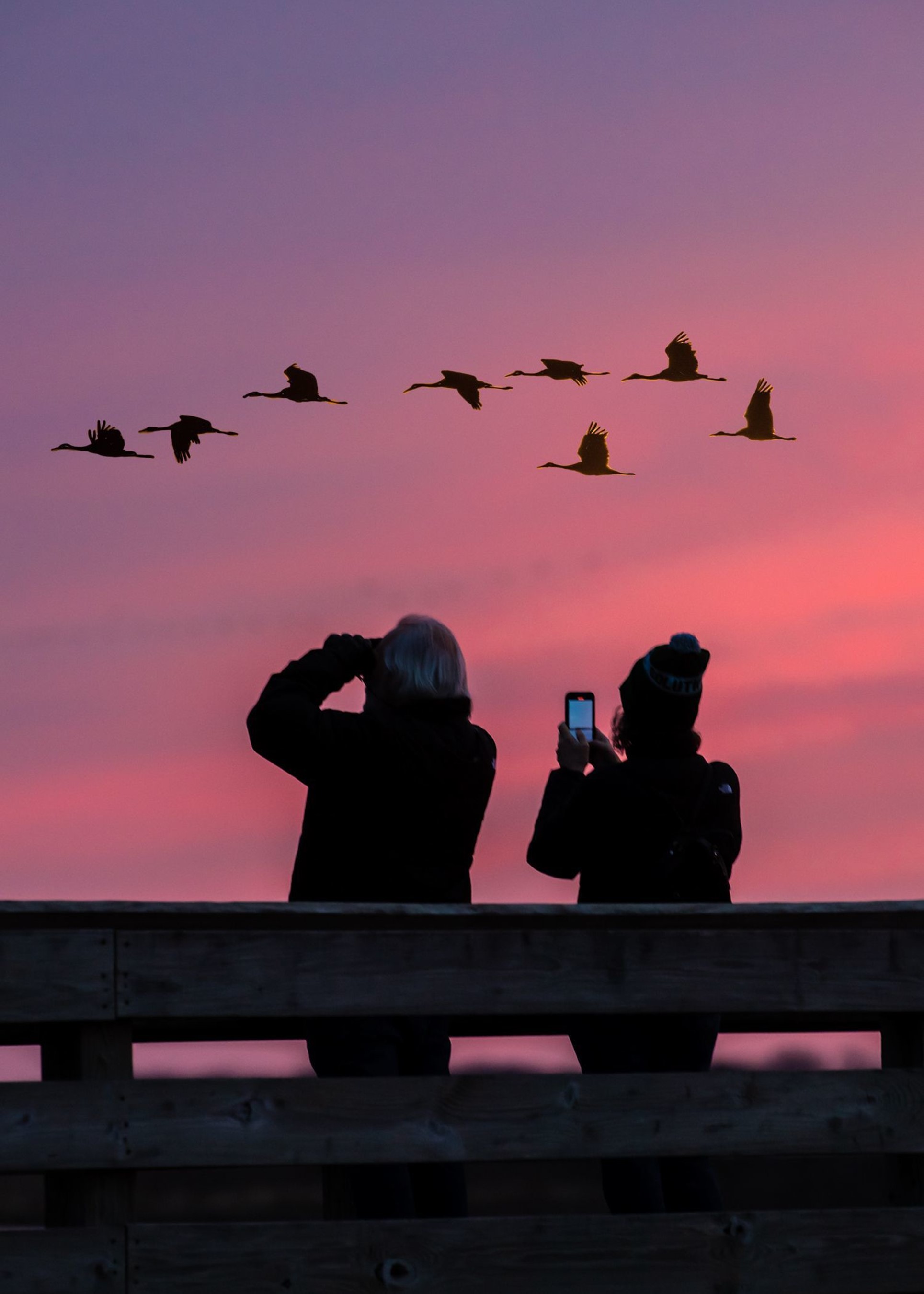 If you aren't an early bird or night owl, a daytime self-guided driving tour is a great way to view the sandhill cranes "dancing" and exhibiting other social behaviors. There are three turnouts to enjoy safe and legal roadside viewing nearby: one south and one east of the Alda interchange on Platte River Drive, and one west of Rowe Sanctuary on Elm Island Road in Gibbon.
 A driving route that circumnavigates North River Wildlife Management Area (WMA) and Muskrat Run WMA is about a two-hour drive west. With 681 acres and 2 miles of river frontage, North River WMA is one of the westernmost sandhill crane roosting sites. A helpful tip for finding the cranes while driving is to follow your ears! You might hear the cranes before you see them, which may help you to more easily locate or pinpoint a flock. Drive slowly, roll down the windows and listen. Be sure to follow all traffic laws, respect private property and practice birding etiquette.
Nebraska Flyway Map of Public Viewing Areas
Although the majority of sandhill cranes congregate along or close to the Platte River, many other migrating bird species may be found throughout the Rainwater Basin Wetland Management District's 61 Waterfowl Production Areas (WPAs). The Rainwater Basin is a migratory stopover for white-fronted geese, the North American mallard, the North American northern pintail and many types of shorebirds. Most migrate through the area during April and May and again in August and September, utilizing the Rainwater Basin for rest and food. One of the better options for crane sightings, including the endangered whooping crane, is Funk Waterfowl Production Area (WPA). You'll find Funk WPA located just north of and in between the towns of Funk and Axtell, Nebraska. The map shows the numerous parking areas and points of interest including the 3-mile Funk Peterson Wildlife Trail.
Viewing at Nebraska State Parks
Several parks and recreation areas surrounding the flyway offer additional possibilities to glimpse sandhill cranes. The following recommendations were selected for their close proximity to the Platte River, but there's no guarantee you'll be able to see cranes within the parks themselves. Before you start your engines, remember that the purchase of a park permit is required for entry into all Nebraska State Park and Recreation Areas.
Fort Kearny State Recreation Area provides excellent over-river crane viewing from an old railroad bridge, which spans the Platte River. Permits are available at the entrance or nearby from the Fort Kearny Historical Park visitor center which also shows an 18-minute video about the area's wildlife. Staff can also answer questions and direct you to the best viewing locations.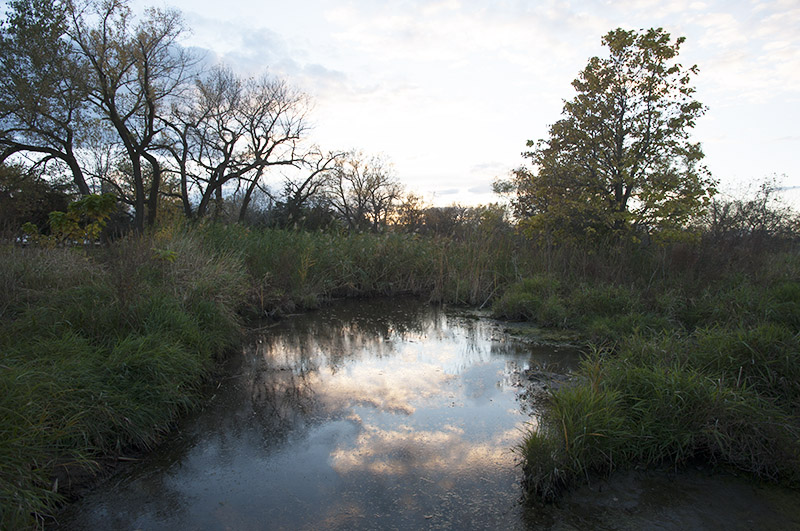 Mormon Island State Recreation Area is just off Interstate 80 near Grand Island, making it a convenient place for outdoor fun. It has handicap-accessible fishing piers, modern camping, great fishing, great swim beaches and abundant picnicking opportunities. Mormon Island West has 42 surface acres of water, and the middle island has 19 surface acres of water.
Windmill State Recreation Area is one of the jewels of the Nebraska Game and Parks Commission in the state's unique chain of lakes along Interstate 80. Situated at the Gibbon Interchange between Kearney and Grand Island, the area draws its name from the old-time windmills situated in the park. The oldest windmill is an 1880 Standard that was used to pump water for steam locomotives in Fleming, Colorado. All have been restored to working order.