Six Spots in Nebraska to Get a Birds-Eye View of Bald Eagles
There are countless opportunities to discover Nebraska's diverse wildlife. Enjoy picturesque nature scenes while catching a glimpse of its natural inhabitants. Winter and early spring are the perfect time to get out and see a multitude of bald eagles in Nebraska.
*Please be respectful of the eagles. It is illegal to disturb them in their natural setting. They can be easily spooked if vehicles come too close to them. Binoculars can be helpful in seeing the birds from a safe and respectful distance. *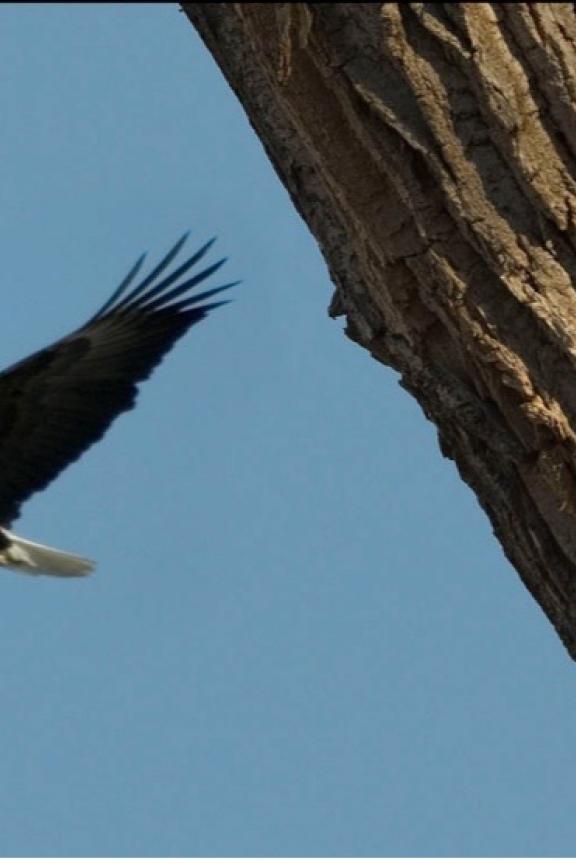 Located north of Ogallala, in the months of January and February, these two lakes are prime places for bald eagles to come in the search of food. Eagles tend to gather here below the Kingsley Dam because the hydroplant prevents that area of water from freezing over. Large numbers of the birds can also be seen from the shores of Lake Ogallala.
The Sutherland Reservoir is a popular spot for bald eagles in winter for the same reason as Lake McConaughy. The power plant circulates warm water into the lake which prevents the lake from freezing over, allowing the eagles to hunt for fish. The best and safest places to see bald eagles here are on either side of the golf course or in the Hershey Beach area.
Large amounts of eagles have been seen at the Harlan County Reservoir depending on how much open water is present. The Pheasant Ridge Walking Trail winds along the lake and is a good place to spot eagles from.
The Burwell area is a great place to spot large numbers of eagles during this time of year, especially around the Calamus Reservoir SRA. The north end of the lake has a pull-off area to watch for bald eagles.
The Niobrara River valley is home to numerous streams and lakes that attract bald eagles with the opportunity to find food. With more than 12 miles of hiking trails, you can explore the entire park while looking for eagles and other wildlife.
Lake Wanahoo is a southeast Nebraska favorite. Located north of the town of Wahoo, it is well known for its prime bald eagle viewing opportunities. Complete with a new wildlife viewing platform and a walking trail on the north side of the lake, it is a great place to go to seed not only bald eagles but a variety of other wildlife as well.