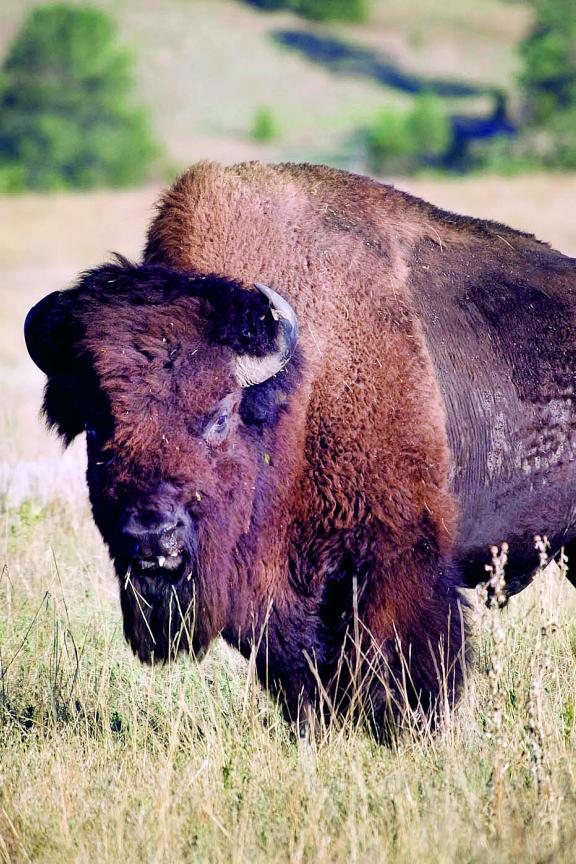 Watchable Wildlife
Your primer on where, when & how to spot Nebraska's wild things 
What makes Nebraska such a prime spot for wildlife-viewing? Our mix of prairies and pine forests, grasslands and wetlands—created by some 23,000 miles of rivers and streams. Before we dish on where and when to look, let's cover the how: best practices for watching wildlife. Above all, remember the trifecta: silence, patience and distance. Put another way, the best sightings come to those who don't mind waiting quietly from a safe distance. If you're too close, animals are likely to stop acting naturally out of fear. So, watch an animal's behavior. If it's engaged in normal activity—feeding, for example—you're likely at a safe distance. P.S. Binoculars rock. They allow you to maintain a safe distance while enjoying the very best views. A pair of all-purpose binoculars, power and dimensions 7 x 35, will do.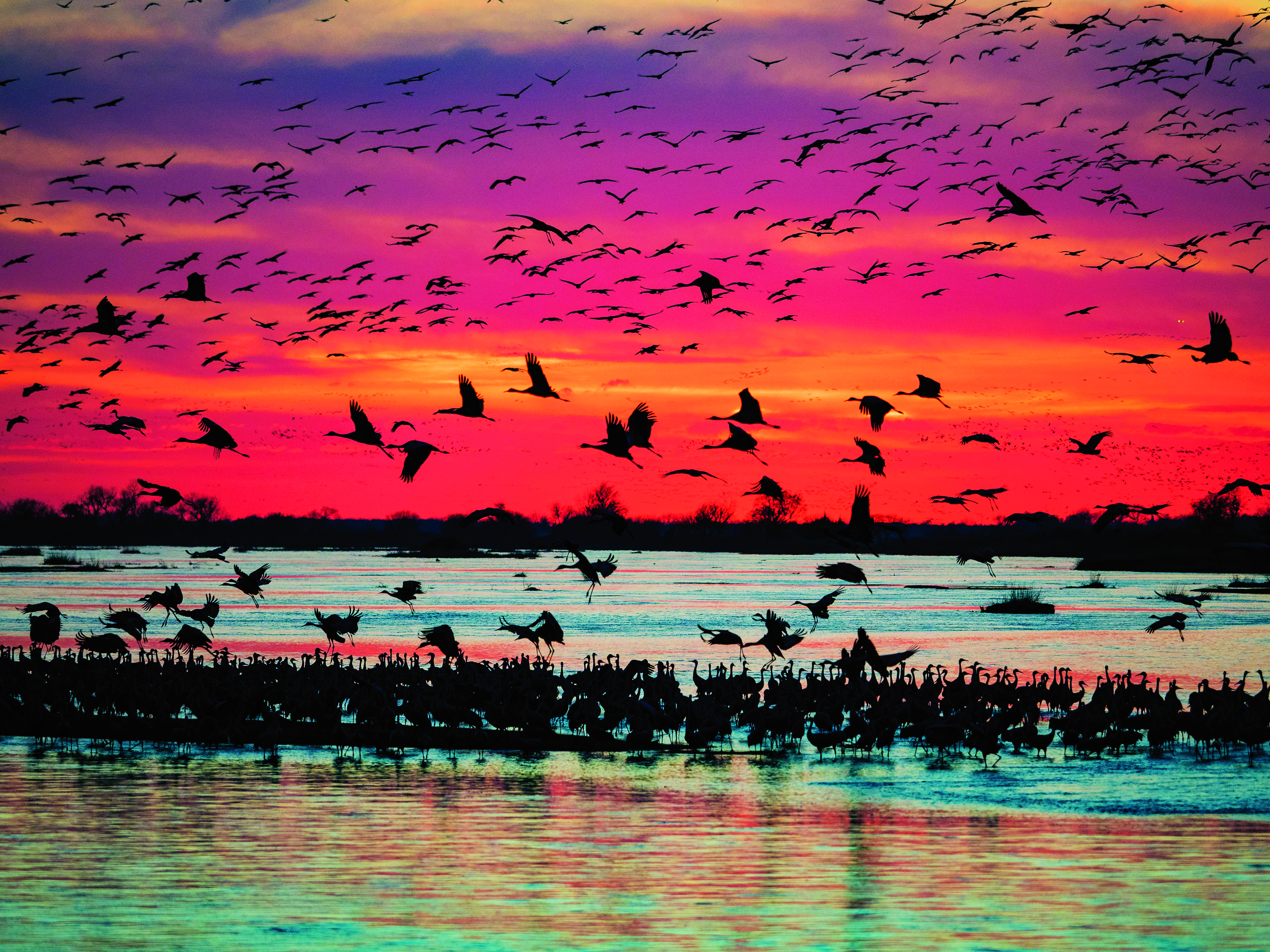 SANDHILL CRANE
Where Annually in March, the world's largest gathering of sandhill cranes occurs along an 80-mile stretch of the Platte River. The Crane Trust in Wood River and lain Nicolson Audubon Center at Rowe Sanctuary in Gibbon are prime spots for viewing and even taking tours.
When Sunrise and sunset throughout March
Tip Be prepared for the action to happen all at once. The cranes take off for flight just as the sun rises and return to their roosts right before sunset.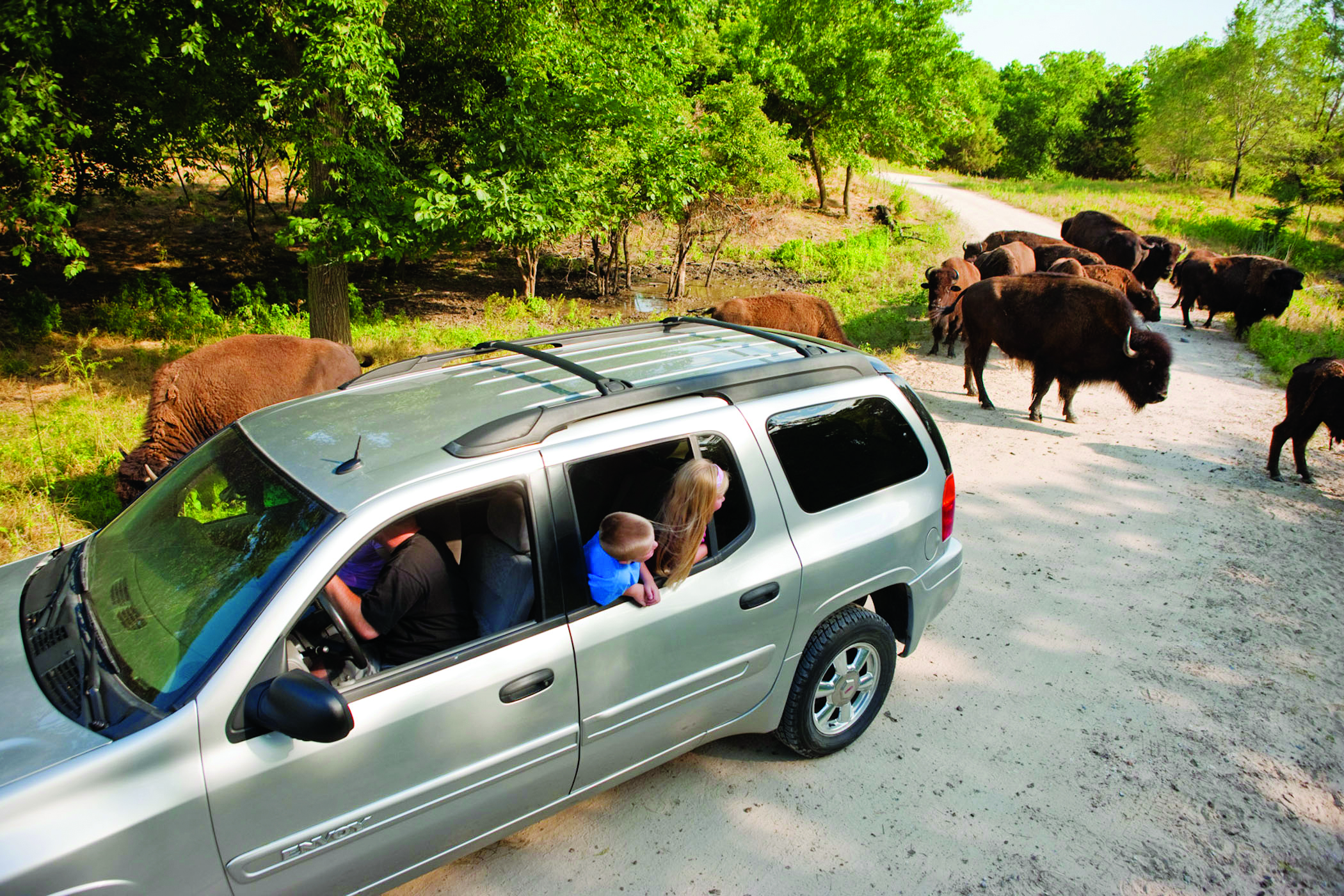 BISON
Where Some 350 bison roam freely at the Fort Niobrara National Wildlife Refuge in Valentine. Bison are herd animals, so you can anticipate seeing them in packs.
When Early summer to view newborn calves; late summer for displays of male dominance that mark mating season
Tip Bring binoculars— bison often congregate away from the refuge's roads in meadows.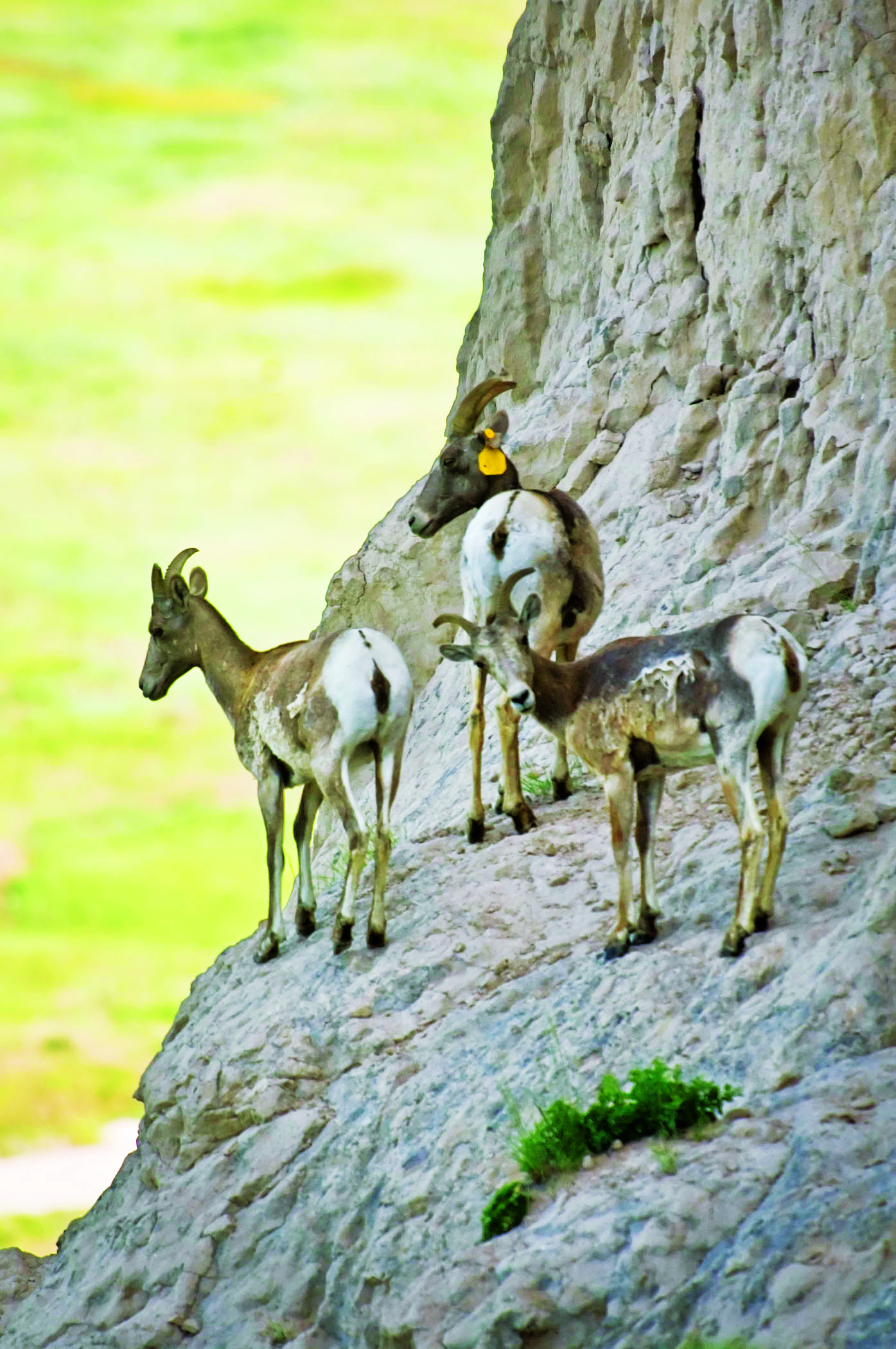 BIGHORN SHEEP
Where Spot bighorn sheep in the Cedar Canyons Wildlife Management Area near Gering, the pine forests and badlands of Chadron State Park's Black Hills Overlook Trail in Chadron or on the pinnacles of Fort Robinson State Park west of Crawford.
When Spring and early summer to view newborn lambs; late November and early December to witness rutting rams
Tip Sheep are social animals. If you spot one, there are likely others in the area.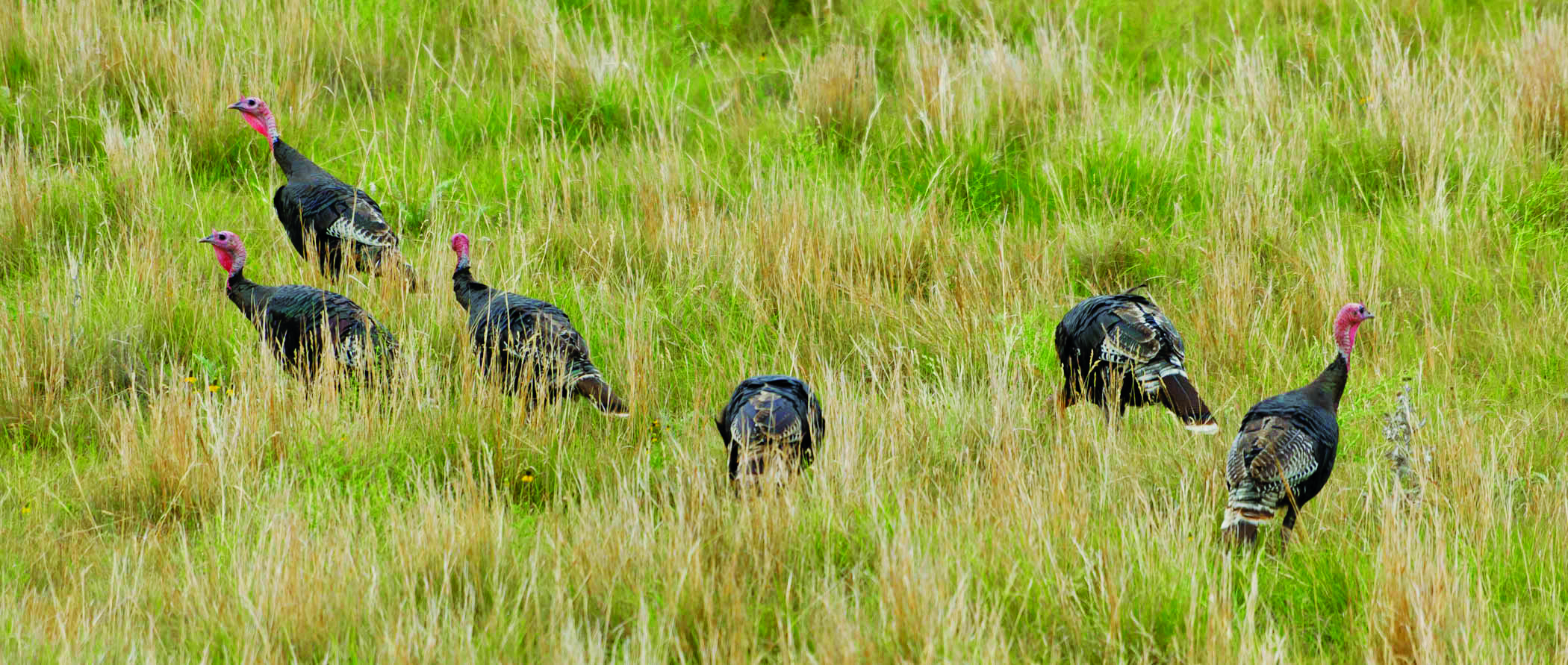 WILD TURKEY
Where While they frequent harvested fields, the highest concentration of wild turkeys can be found along the Missouri River at Ponca State Park in Ponca.
When March through the end of May to watch toms strut in an attempt to court hens; fall and winter for observing large flocks
Tip You'll likely hear wild turkeys before you see them—the sound of their gobble can travel up to a mile!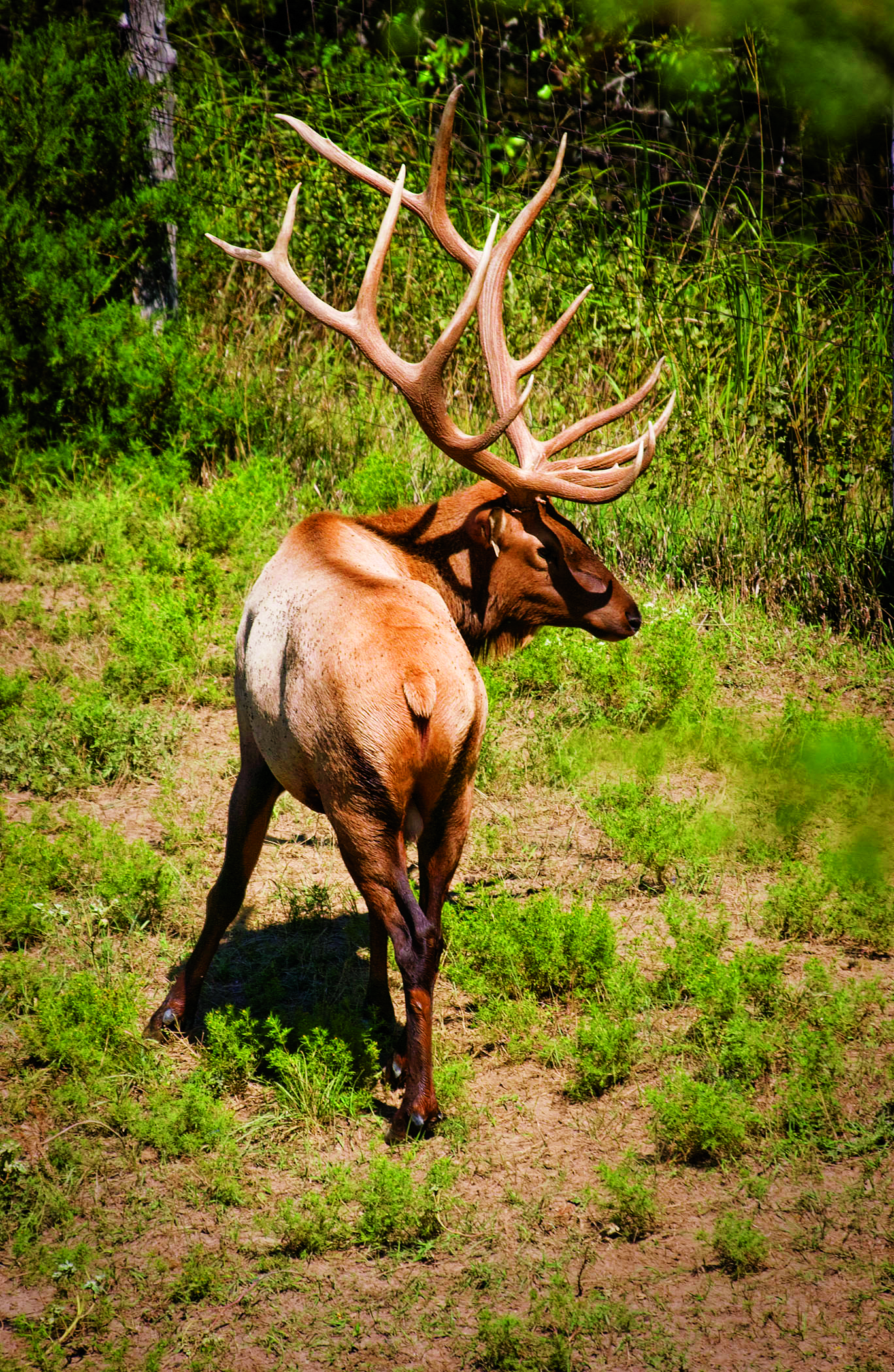 ELK
Where Head to Pine Ridge National Recreation Area south of Chadron to eye for elk. They're known to feed on grasses near the edge of the meadow and forest.
When September through October for mating season, when you may catch bulls fighting and "bugling," a way of sounding off for dominance
Tip Nebraska's elk population is small but mighty, and the majestic animals may be the most elusive in the state. Any sighting is a treasure.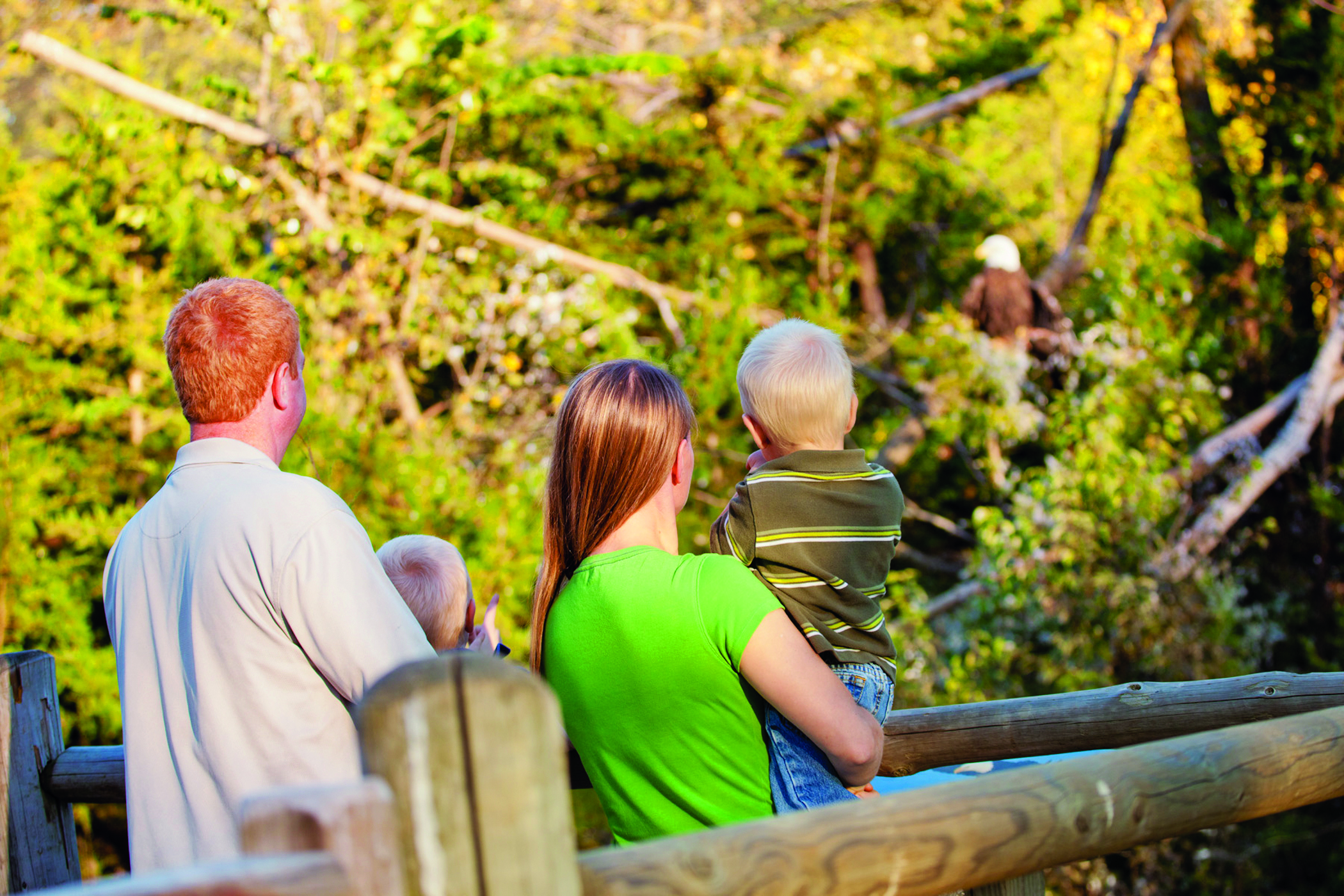 BALD EAGLE
Where Visit Lake McConaughy's heated viewing facility just below Kingsley Dam in Ogallala. Or, hike the 3.1-mile trail at Indian Cave State Park in Shubert. Eagles have been spotted where the trail passes the Missouri River.
When January
Tip Nests are commonly found along waterways, especially where the forest meets the water.