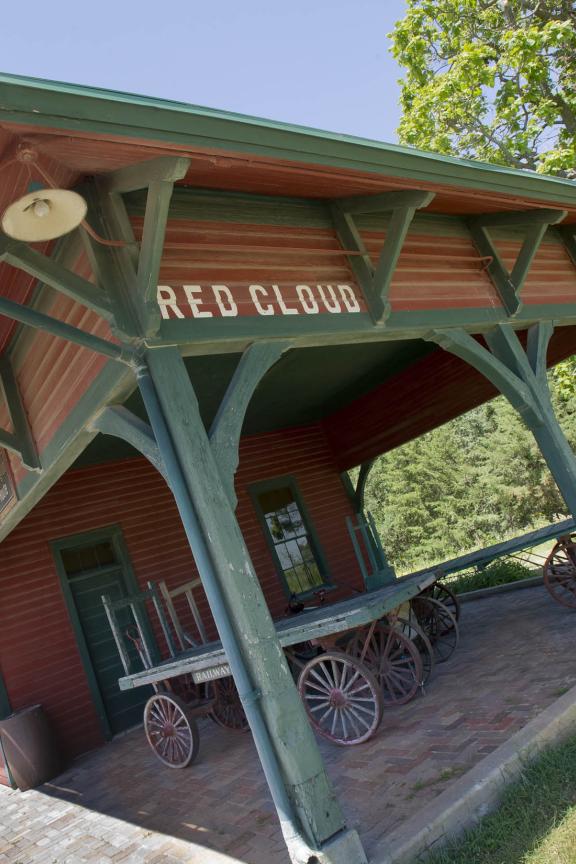 discover performing arts, prairie life & Willa Cather in Red Cloud
If you could see Nebraska through my eyes, you would see how great life was and still is in America's Most Famous Small Town. You'd see the beautifully restored Opera House and the Moon Block, the site of the National Willa Cather Center. You'd see seven State Historical Sites that are dedicated to Cather and nearly 50 places you can visit that are associated with the author's life and writings. You'd see how proud our town is to have more sites dedicated to honoring an author than anywhere else in the country. You would see a beautiful downtown with unique architecture, friendly people and hard-working folks in small, locally owned businesses. You'd see beautiful old homes and traffic-free streets.You'd also get a glimpse into our storied past at the Webster County Historical Museum and the Starke Round Barn, the largest true round barn in the world. You'd marvel at this architectural wonder with its massive beams held in place by tension rather than nails. You would have your breath taken away on a warm summer day, taking a country tour and seeing the sights of Catherland; you would begin to understand just how difficult and awe-inspiring life on the plains in the pioneer days must have been. You would be even more amazed by the beauty, grandeur and immensity of the open prairie at the Willa Cather Memorial Prairie and be delighted to see species you will find nowhere else in Nebraska.
But more than the amazing sights, culture and history, you'd get to see that our true heritage is our people. You would get to see them support and celebrate one another and how hard-working farmers can let loose for a few moments at community celebrations like Street Car Days and events at the Opera House. You would see a town that embraces a diverse array of people, from literary enthusiasts to hardcore hunters seeking out some of the best spots for deer and turkey in the region. You'd be amazed by the endless sunsets, the wildlife, the prairie, the town and the people. If you could see Red Cloud through my eyes, you would see a great place to raise a family, a great place to embrace culture and a great place to catch a glimpse of Nebraska's proud pioneer past.
My name is Jarrod and this is Red Cloud through my eyes.