Summer Events & Festivals
Need a reason to visit Nebraska this summer? How about a dozen? We have more, but you have to start somewhere.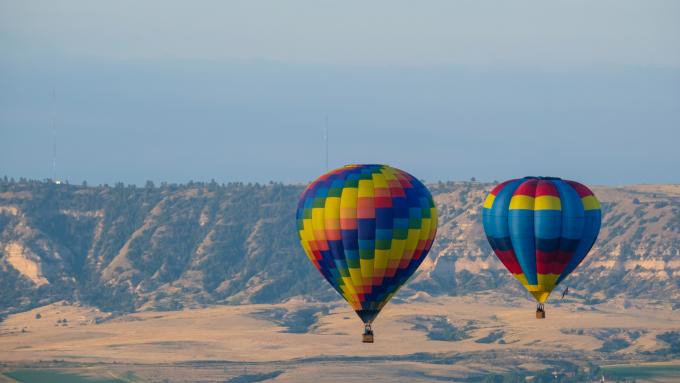 Some of Nebraska's quirkiest and move beloved annual traditions come out during the summer months. So it's a great time for you to experience these only-in-Nebraska festivals and events. Join us in summer as we celebrate with rubber chicken tosses, rodeo events, live music, Kool-Aid, dark night skies, hot air balloons, state fair food and more.
July
Seward Fourth of July Celebration, Seward For over 150 years, Seward, "Nebraska's Official Fourth of July City," has put on one of the top small-town celebrations in the nation.
The Wayne Chicken Show, Wayne An odd bird of a festival, but even more fun than the chicken dance. Previous years have featured egg tosses, rubber-chicken chucks and more.
Nebraska's Big Rodeo, Burwell Experience classic rodeo events such as Saddle Broncs and the wild and woolly action of the Wild Horse Race and Canadian Chuck Wagon Races.
Fur Trade Days, Chadron A historic celebration of buck-skinners, traders and Native Americans. Five days packed with events pay tribute to the town's key role in the fur trade.
Maha Festival, Omaha Music from national and local acts, talks and panels covering a wide variety of topics, and a regional craft beer experience can be found at this festival.
August
Nebraska Star Party, Valentine This event is one of the nation's premier stargazing events, held under the dark skies of Nebraska's beautiful Sandhills.
Kool-Aid Days, Hastings Kool-Aid was invented here over 90 years ago. Celebrate with three days of live music, fireworks, Kardboard Boat Races and a Kool-Aid drinking contest.
Old West Balloon Fest, Gering-Scottsbluff-Mitchell Nebraska's premier hot air balloon festival. Experience glow balloons, amazing hot air experiences and more.
Nebraska State Fair, Grand Island Nebraska celebrates its culture, traditions, talent, products and people at the state fair.
Columbus Days, Columbus Live music, corn hole tournament, BBQ, a parade, various races and more await you at the largest block party in Nebraska.