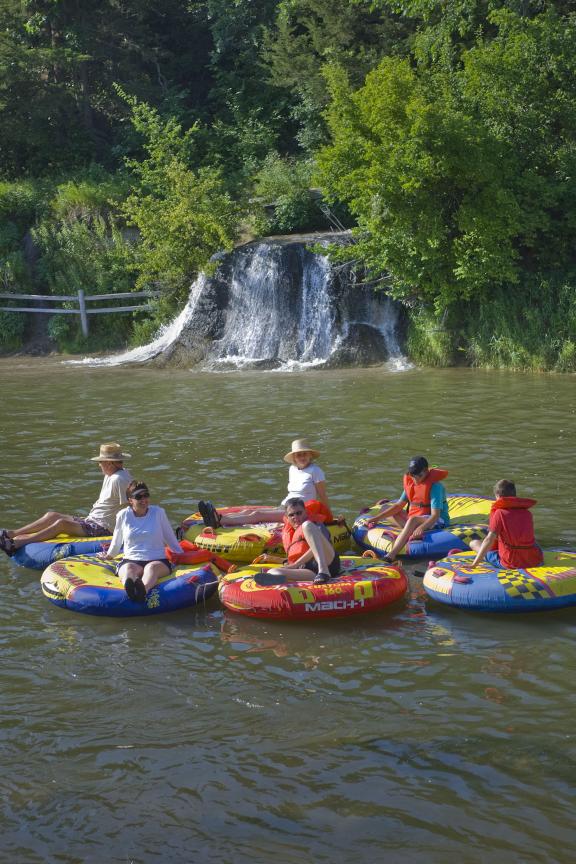 Tubing the Niobrara River
If you could see Nebraska through my eyes, you would see the quiet, calm, serenity of the Niobrara River. Some of my fondest memories as a child were tubing down the river, jumping off of Fritz's Landing and making smores by the campground fire. Fritz's Landing was one of my favorite spots, a large but hidden rock area, covered with just a few inches of water that you could wade around in and jump off of and into the deeper waters of the Niobrara. If you could see Nebraska through my eyes you would see people tubing, canoeing or kayaking down the rolling waters and occasionally pulling over at their favorite spots. I always loved being pushed out into the river with my family, each with our own tubes connected to each other. Being carried away by the water, jumping off the tube anytime I started to get too hot and just swimming with the beautiful scenery surrounding me. If you could see Nebraska through my eyes you would see me pulling the tube over to the side so I could stop off and see Smith Falls. You would see me drenching myself underneath the ice cold water and watching everyone else do the same. Then you would see me eating lunch at one of the many picnic tables surrounding the Niobrara, watching everyone float by. This was a favorite trip of mine when I was little, and it's a favorite trip of mine now that I'm older. My name is Erin and this is the Niobrara River through my eyes.
Fritz's Island Campground
89927 Sparks River Rd.
Valentine, NE
United States
(402) 376-3791
The cleanest, most modern campground on the Niobrara. Large, shaded riverside campsites. Tube rental available.
Smith Falls State Park
90165 Smith Falls Rd.
Valentine, NE
United States
(402) 376-1306
Nebraska's newest state park. A national historic bridge across the Niobrara River provides access for visitors to walk to our state's highest waterfall. The Jim MacAllister Nature Trail alerts hikers to diverse ecological systems in the valley that exist nowhere else in North America. Office open Memorial Day-Labor Day, Mon-Thu & Sun, 8am-10pm; Fri-Sat, 8-11am. Park permit required. Fee for camping. Partial Handicapped Accessibility.