Nebraska Tourism launches spring/summer campaign "Nebraska. Honestly, it's not for everyone"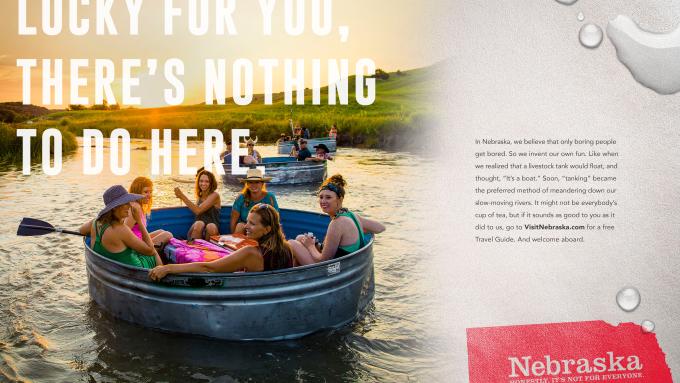 FOR IMMEDIATE RELEASE
LINCOLN, Neb. (April 1, 2019) – Great Plains that are anything but plain, tanking, Nebraska's preferred method of meandering down rivers and a Stonehenge replica made with cars, all things out-of-state travelers will get a taste of with the launch of Nebraska Tourism Commission's new campaign. 
Starting April 1, Nebraska Tourism's 2019 spring/summer advertising campaign premiers in key out-of-state markets using "Honestly, it's not for everyone." The campaign addresses preconceived notions about Nebraska as a tourism destination using self-deprecating humor.
 
"People love the campaign. They love the humor and the honesty of it," said John Ricks, Nebraska Tourism Commission executive director. "Since unveiling "honestly, it's not for everyone," we've seen an increase in travel guide requests, website traffic and lodging tax collection. We get frequent requests for mugs and t-shirts and our major travel season is still a couple of months away. So we're looking forward to seeing the positive impact it has on tourism in Nebraska now that we're officially advertising the full campaign."
Three never before seen television ads will air in all out-of-state markets. One TV ad features quirky destinations located throughout the state like Carhenge in Alliance and Hollywood Candy in Omaha. The same ad also features 9-year-old Nebraskan, Carter Frey, who represents the campaign's description for Nebraska as "that odd kid who didn't say much in school, slightly peculiar maybe. But when you took the time to get to know him, turned out he was pretty interesting." Another ad focuses on a very unique but fun summer pastime in the state, tanking. Tanks filled with smiling, laughing people float down the Middle Loup River with Glidden Canoe Rental near Mullen. Renowned photographer Michael Forsberg makes an appearance in the third TV ad as he explores the western part of the state capturing the beauty of the Great Plains, or more accurately named The Great Dazzling Spectacles.
Television, print, outdoor and digital advertisements will run in key markets including Denver, Minneapolis, Sioux Falls, Kansas City, Wichita, Topeka and Des Moines from April – August.
The Nebraska Tourism Commission began using "Nebraska. Honestly, it's not for everyone," in January with promotions focusing on the sandhill crane migration. Since the campaign was unveiled at the 2018 Nebraska Tourism Conference in October, website traffic to VisitNebraska.com has been up 43 percent.
Want to join in on all the "Nebraska. Honestly, it's not for everyone" fun? Use #HonestlyNE on social media or order "The Official 2019 Not-At-All What You Thought State Travel Guide" at VisitNebraska.com.
For more information about travel, events and unique destinations in Nebraska, order your free travel guide today at VisitNebraska.com. Then stay connected with Nebraska Tourism on our Visit Nebraska Facebook page, on Twitter, on Pinterest, on Instagram and on YouTube.
 
The mission of the Nebraska Tourism Commission is to expand Nebraska's dynamic and diverse travel industry making it more viable by creating awareness, attracting increased visitors which results in greater tourism revenue and economic gain throughout the state. To learn more, go to VisitNebraska.com.
####