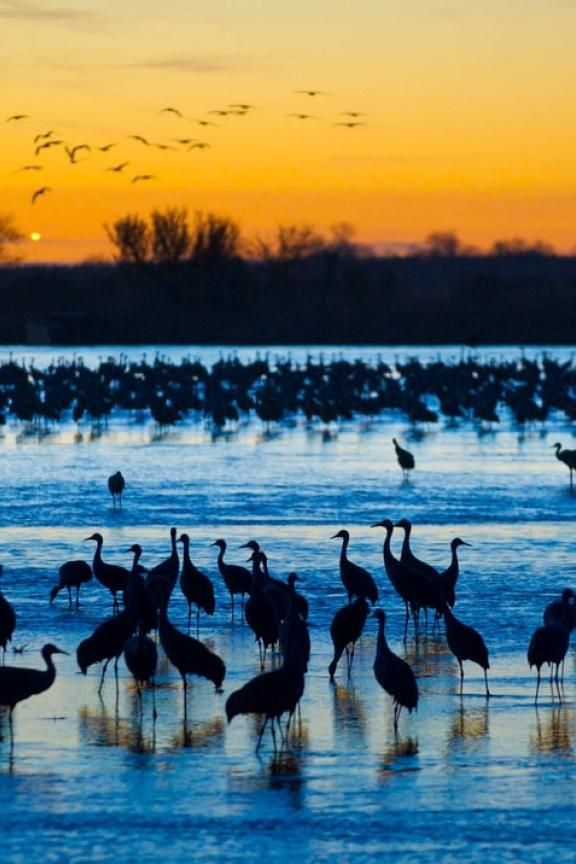 Nebraska Birding Opportunities
4 Nebraska Birding Opportunities
Whether you're an avid bird-watcher or just looking to try something new, these four birds offer breathtaking wildlife watching experiences.

Bald Eagles 
When: January
Where: Lake McConaughy, Harlan County Reservoir, Sutherland Reservoir, Indian Cave State Park 
Over 1,000 bald eagles visit Nebraska each winter and spring to feed on fish and migratory waterfowl. While you can view these birds year round throughout the state, winter and early spring are the best time of year to see larger numbers of bald eagles.

Sandhill Cranes
When: March and early April
Where: Platte River Valley – Crane Trust Nature & Visitor Center, Audubon's Rowe Sanctuary, Fort Kearny State Historical Park, Fort Kearny State Recreation Area, Dusty Trails
Every year, 80% of the world's population of sandhill cranes converge on the Platte River Valley in Nebraska. The 600,000+ cranes come to this area to rest and refuel before continuing on their journey. Wait in the early morning as the sun slowly starts to rise to hear the sound of thousands of birds as they wake for the day and take flight from the river to feed elsewhere. View the cranes at sunrise or sunset through blinds at Crane Trust and Rowe Sanctuary, or from one of the public viewing decks in the area. Wherever you view them from, it's an experience you won't want to miss.

American White Pelican
When: March and early April
Where: Harlan County Reservoir, Lake McConaughy
Every year, White Pelicans visit Nebraska by the thousands. One of North America's largest waterfowl, weighing up to 20 pounds with wingspans of up to nine feet and a beak as much as 14 inches long – these are very photogenic birds. 

Prairie Chickens
When: End of March, April and May
Where: McCook and Dusty Trails in North Platte
In the early mornings as the sun rises, prairie chickens gather for a mating ritual where the males jump, stomp, inflate bright orange air sacs on their necks and produce loud booming noises – all to impress the females. One of the more whimsical birding experiences a person could experience – each spring these fascinating birds strut their stuff in a mating dance that is sure to charm you.