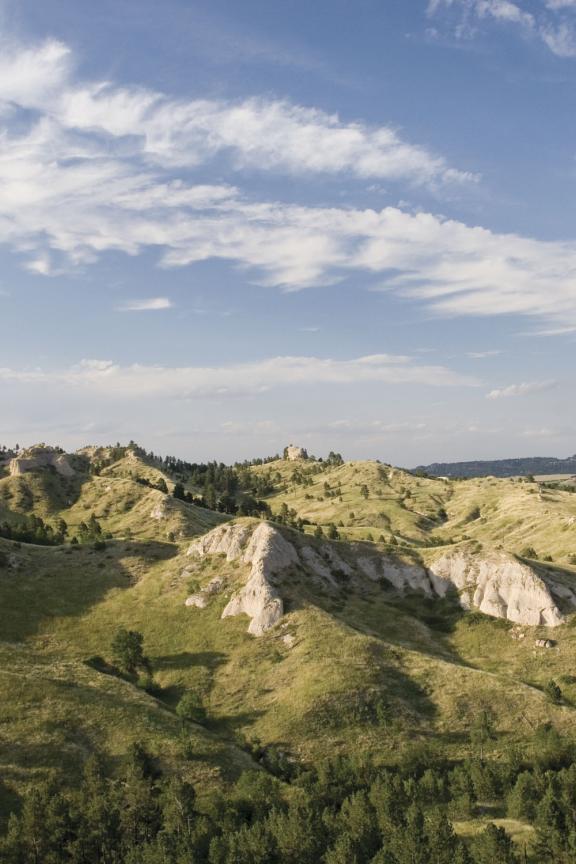 8 Ah-Mazing State Park Experiences
Go ahead and use your outdoor voice! Nebraska has so many ways to enjoy nature, it'll instantly turn your inner outdoors person into an outer outdoors person. Here are eight must-try Nebraska State Park experiences. 
1. Chadron State Park 
Discover Nebraska's oldest state park, founded in 1921 and located just outside Chadron. Its variable terrain offers hikers and bikers of all levels a spot to get outside and enjoy Nebraska's wildlands. Black Hills Overlook Trail winds through canyons and meadows, with scenic views of the Pine Ridge and Black Hills. Spring wildflowers and fall foliage add pops of color. Visitors will love the park's other amenities such as the modern campground, disc golf course, swimming pool, archery range, playgrounds and many fishing opportunities.
 
2. Eugene T. Mahoney State Park 
Located between Lincoln and Omaha near Ashland, Eugene T. Mahoney State Park offers all kinds of year-round fun. With hiking and biking trails, pony rides, a treetop ropes course, an indoor climbing wall and The Family Aquatic Center, the park offers non-stop adventure for visitors. But the fun doesn't stop there. You'll also find an indoor play space, an arts and crafts center and courses for disc and miniature golf. During the winter months, you can go sledding, ice fishing and glide around the outdoor ice rink. 
3. Fort Robinson State Park
Teeming with Old West history and Pine Ridge scenery, a visit to Crawford's Fort Robinson State Park is an outdoor adventure you won't forget. From jeep and horse-drawn carriage tours to stagecoach rides and equestrian trails, discover the area's heritage by exploring the 22,000-plus-acre park. Enjoy the park's swimming pool, hiking trails, 9-hole golf course and old-fashioned rodeo (every Thursday evening during the summer)–and if you're looking for a little culture, visit the park's playhouse theater and two museums.
4. Indian Cave State Park 
With scenic camping and picnicking spots, awe-inspiring views of the Missouri River and 22 miles of hiking and biking trails, it's no wonder why Indian Cave State Park in Shubert is such a popular attraction. At the park, which was named after the large sandstone cave found within, you can explore 3,052 acres of nature, living history demonstrations and outdoor fun. October visitors can take in the fall foliage while enjoying Haunted Hollow events such as hayrack rides, spooky campsites, decorating contests and more.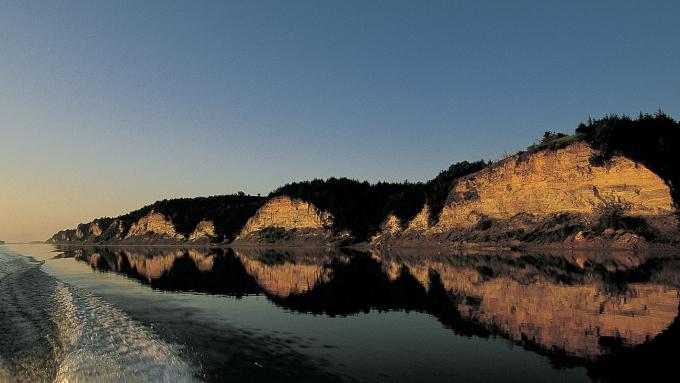 5. Niobrara State Park
From horseback rides and wildlife watching to boating and fishing, Niobrara State Park is an outdoor enthusiast's dream come true. Located where the Niobrara and Missouri Rivers merge in Niobrara, visitors have ample opportunities for kayaking and canoeing. Head over to the J. Alan Cramer Center for stunning views and to learn the history of the park and its surrounding area. Throughout the summer months, you can learn about the region's Old West history at the park's popular Buffalo Cookouts. 
6. Platte River State Park
At Platte River State Park in Louisville, you'll discover some of Nebraska's most beautiful landscapes. Go hiking or biking on serene trails. Snap Instagram-worthy photos at the picturesque waterfall. Climb to the top of the park's two observation towers to enjoy remarkable Platte River Basin vistas. As you explore, you'll discover recreation amenities such as a spray park, the interactive Crawdad Creek, Jenny Newman Lake and more. Visiting campers can choose from vintage cabins, luxurious glamping cabins and 48 full hookup campsites.
 
7. Ponca State Park
In Ponca, explore 22 miles of scenic hiking and biking trails within Ponca State Park, the eastern gateway to the Missouri National Recreational River. In spring, take a guided bird tour to spot migrating species in the park's wetlands. Try kayaking, rock climbing, shooting sports and bow fishing at the Missouri River Outdoor Expo, held in the park each September. Return in October for a month of Halloween-themed celebrations at Hallowfest, featuring haunted hayrack rides and pumpkin-rolling contests. 
8. Smith Falls State Park
Smith Falls State Park in Valentine is a popular spot for campers and water sports enthusiasts. Campers will enjoy tent camping with scenic views of the waterfall and the Niobrara River, a National Scenic River. With access to the river, the park attracts water-lovers from near and far for its world-class kayaking, canoeing and tubing opportunities. Don't have your own watercraft? Don't worry– rentals are available.