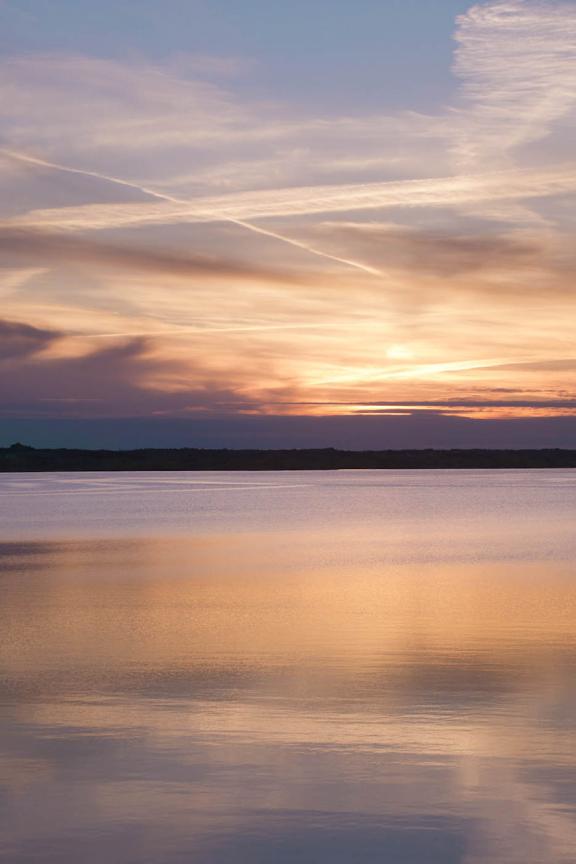 8 Must-See Skygazing Experiences in Nebraska
Many know Nebraska for its scenic landscapes and outdoor recreation opportunities, but some of the state's best outdoor experiences are sunrise, sunset and dark-sky viewing. From the pinks, oranges and purples that paint the sky at dawn and dusk to the moon and stars illuminating the night sky, you'll find awe-inspiring, picture-worthy views across Nebraska. Here are just a few of our favorite spots.
Burwell
Go camping at Calamus State Recreation Area, where early morning or later afternoon hikes are highlighted with magnificent color. The sun's reflection off the park's 5,123-acre lake makes for great photo ops.
Ashland
Discover stunning views of the Platte River Valley at Eugene T. Mahoney State Park. Whether you're taking in the sights from the observation tower or from your balcony or deck at Peter Kiewit Lodge, you'll have a prime location for sunset or sunrise viewing.
Red Cloud
With 612 acres of never-been-plowed Nebraska prairie, the Willa Cather Memorial Prairie is an excellent spot for stargazing. Any time of day or night, wander along the trails through native grasses, wildflowers and other flora.
Niobrara
Sitting at the confluence of the Niobrara and Missouri Rivers, Niobrara State Park is already one of the state's most spectacular landscapes. But at dusk or dawn, when the sun reflects off the rivers and the sky is alight in various colors, this park is truly a sight to behold.
Valentine
Stop by Merritt Reservoir State Recreation Area for some of the nation's best dark-sky viewing. Located away from major cities in the Sandhills' Snake River Valley, the reservoir sits far from any light pollution.
Gering
Explore the geological wonders of Scotts Bluff National Monument in Gering. If you're at the park at dawn or dusk, you might catch Instagram-worthy shots of the monument framed by skies full of color. Hike the North Overlook Trail for more stunning views of the North Platte River Valley.
Harrison
Hike through unusual geological formations and fossil deposits at Toadstool Geological Park and Campground. Stay at the campground for even more incredible sunrise, sunset and dark-sky viewing opportunities.
Shubert
See magnificent vistas of the Missouri River and surrounding forest at Indian Cave State Park. Park observation decks are perfect for sunrise and sunset viewing. Consider visiting in the fall when the forest is aglow with autumn colors.