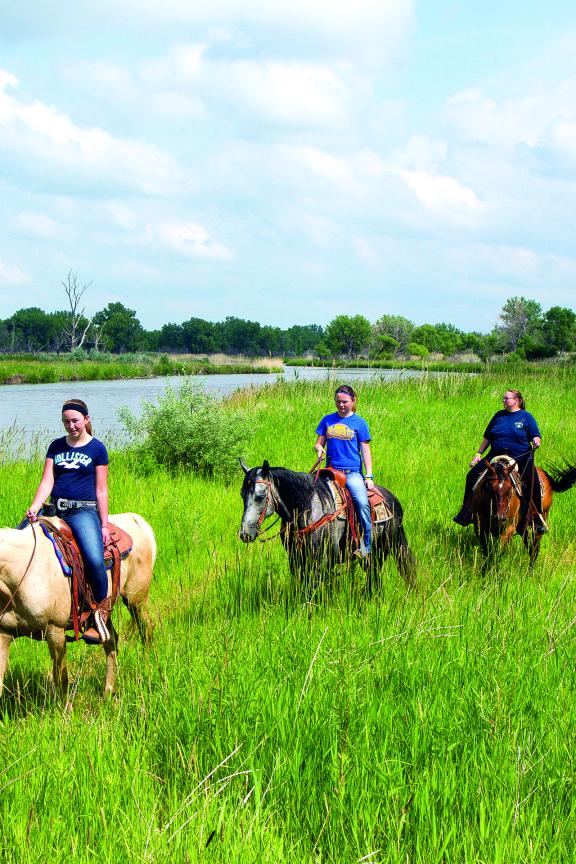 Chase Cowboy Culture in Nebraska
Howdy, friends. Ready to channel your inner cowhand? You've come to the right place.
Chances are, if you're imagining Nebraska, visions of cowboys and cowgirls—or simply, cowhands—have galloped through your daydreams. We're here to help you realize those dreams: as a keeper of generations-deep cowhand culture, Nebraska promises several ways for you to experience the lore, and even the lifestyle, firsthand.  
In Ogallala, step up to the bar at the Crystal Palace Saloon and order a drink—pink lemonade and milkshakes for the kids; maybe something stronger for the adults. You're in for an Old West shootout and show resurrecting the days when Ogallala was a rough-and-tumble town full of cowhands, cattle barons and drifters—and the Crystal Palace was at the center of it all.
While you're in the area, seek out the historical marker for Boot Hill, where cattle-drivers en route from Texas to Nebraska died and were buried with their boots on. A bronze statue marks the spot.
Reserve at least a half-day to explore Buffalo Bill Ranch State Historical Park and State Recreation Area. Once home to Pony Express rider and showman William F. "Buffalo Bill" Cody, this mansion and barn have been restored and filled with memorabilia related to Cody's storied life. Before or after your tour, relax with a trail ride at neighboring Dusty Trails. The outfitter guides horseback trips through the historic ranch, winding past shrubs, trees and the North Platte River. 
Curious about the Pony Express? Visit the Pony Express Station in Gothenburg. Originally built as a trading post and ranch house, the site served as a station along the historic mail route from 1860 to 1861. Bonus: It's a great place to stretch your legs too, with a walk in the onsite arboretum or a trip to the playground.