Itinerary: A Small-Town Tour of Southeast Nebraska
When you tour Southeast Nebraska sticking to the small towns, you'll discover history from retro soda fountains to railroad depots, the world's largest porch swing, delicious local eats (and drinks!)—plus a host of bed-and-breakfasts.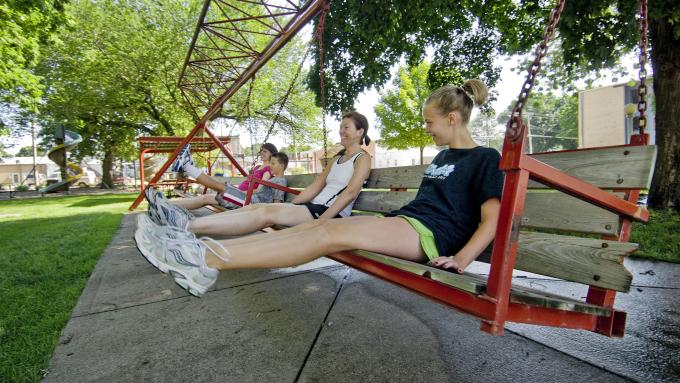 Local's Tips
For all museums, attractions and accommodations featured in this itinerary, always call ahead to make arrangements to visit. Many are not open daily, but can work with you in advance to make arrangements for your visit. In this friendly region, you can even arrange dinner in an Amish family's home, complete with homemade rolls and dessert. A minimum of 15 guests is required; call 402-839-2008 at least one week in advance to reserve.
Day 2
D's Daylight Donuts
200-298 Lincoln Ave.
Hebron, NE
United States
Maybe you woke up to a meal at your bed-and-breakfast this morning. If not, do sit-down or take-out service at this doughnut shop with its own brand of coffee. 
Rock Island Railroad Museum
910 Bacon Rd.
Fairbury, NE
United States
This two-story museum is housed in one of two remaining brick Rock Island Railroad Depots in Nebraska, and is the largest depot still in existence between Chicago and Denver. Visit to view exhibits including telegraph equipment, miniature trains and gardens on the grounds.
Harvest Chinese Restaurant
616 E St.
Fairbury, NE
United States
Locals rave about the lunch and supper buffets at this Asian favorite.
Endicott Clay Company
Highways 136 and 8,
Endicott, NE
United States
Call ahead to 402-729-3315 for a tour of Endicott Clay Company. The company crafts large-scale brick signs for use across the country, and the tour shows you how it all comes together. 
Fairbury City Museum
1128 Elm St.
Fairbury, NE
United States
The Fairbury City Museum displays an impressive inventory of period items donated by friends and families of the community to preserve local history. Expect an educational, interesting look into the early-day lives of Jefferson County citizens, especially as they managed pioneer life.
The Black Crow
405 Court St.
Beatrice, NE
United States
At this fine dining restaurant, dinner could be anything from steak and fresh fish to pizza and pasta, or a delicious salad. 
Holiday Inn Express & Suites Beatrice
4005 N. 6th St.
Beatrice, NE
United States
With ample amenities for guests, this hotel is located just minutes away from the best small-town attractions, and just 40 miles south of Lincoln.
Day 3
Country Cookin' Cafe
111 S. 8th St.
Beatrice, NE
United States
Do like the locals do and order the biscuits and gravy, or the Western hashbrowns smothered in cheese and diced tomatoes, onions and peppers.
Great Plains Welsh Heritage Project
307 S. 7th St.
Wymore, NE
United States
To celebrate the Welsh pioneers of the North American prairies, the Heritage Centre presents exhibits, a mural and garden, and serves as caretaker of other local heritage sites, including the Railroad Museum in Burlington Mini Park and a historic one-room schoolhouse.
RJ's Bar & Grill
402 E. Fillmore Ave. 
DeWitt, NE
United States
Homemade is the focus at this casual bar and grill known for its steaks.
Wilber Czech Museum
102 W. 3rd St.
Wilber, NE
United States
Three levels of artifacts and displays, including period settings from the dentist's office to the meat market to the home, showcase the heritage and culture of Czech pioneer settlers in Nebraska.  
SchillingBridge Winery & Micro Brewery
62193 710th Rd.
Pawnee City, NE
United States
Gather together at this relaxed spot to enjoy a diverse portfolio of hand-crafted beer and wine, signature cocktails and an innovative wine- and beer-infused food menu (food served Friday and Saturday nights).
My Blue Heaven Bed and Breakfast
1041 Broadway St.
Pawnee City, NE
United States
This 1920s home is filled with antiques, quilts and handiwork, and the bathroom has recently been renovated with a large step-in shower and other features. Expect a restful night of sleep and a full, hot breakfast when you wake; if the hostess knows far enough in advance that you're coming, you'll have a choice of breakfast.  
Convent House Bed and Breakfast
311 Hickory St.
Steinauer, NE
United States
Just like it sounds—a former convent, now a gracious bed-and-breakfast on manicured grounds.