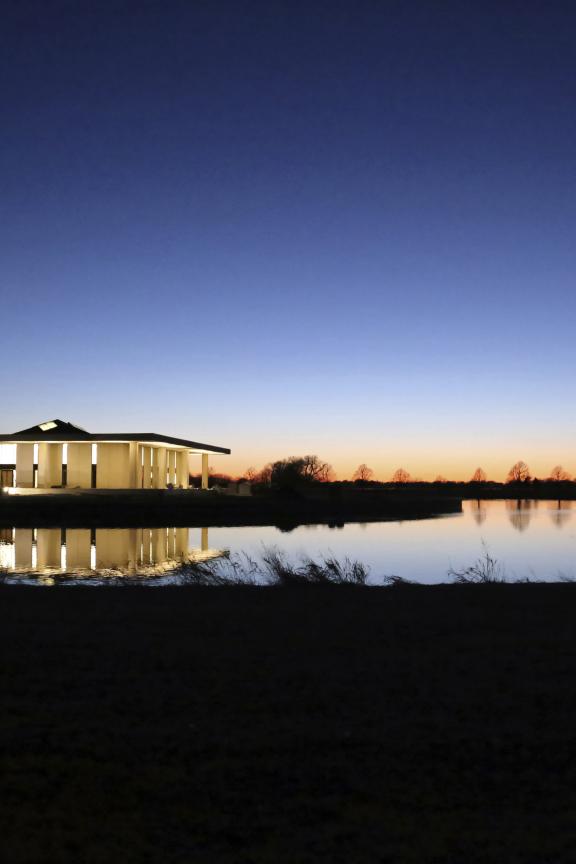 What's a visit to Stuhr Museum like?
If you could see Nebraska through my eyes, you might observe a village green nestled between the train depot and gazebo in Stuhr Museum's 1890s Railroad Town. I take a moment to feel the breeze on my face and hear the birds chattering in the tree above me. A friend hurries past on her errand delivering a pitcher of cool water to the millinery shop. There are children laughing and soon I see them racing down the gravel street playing hoops and sticks. I hear footsteps on the nearby boardwalk and a screen door slapping shut as visitors to the museum enter the Mercantile. Before long, the clanging hammer of the blacksmith drifts over the hum of the town's daily life. A hint of smoke from the wood-stove fire in the Stolley farmhouse is in the air.
I am a Living History Apprentice: a trained, costumed youth volunteer at Stuhr. When I am assigned my duties for the day, I become a town resident. I meet visitors from all over the world and share life in the 1890s with them. I've grown up learning pioneer history from my supervisors and mentors, and while portraying a family member in town, I became a part of the Stuhr family. Living out history on a daily basis shows me how the past and present are woven together. It gives me a wider perspective of the earlier historical events that shaped an 1890s Nebraska railroad town, and that the events of those years shaped the events I'm living today.
Stuhr Museum of the Prairie Pioneer
3133 W. Hwy. 34
Grand Island, NE
United States
(308) 385-5316
For 50 years Stuhr Museum has been one of the premier historical sites in the Midwest offering ever changing artistic and historic exhibits, 206 acres, more than 100 structures including the Stuhr Building (designed by Edward Durell Stone) and a chance to visit Railroad Town, a living history community staffed with costumed interpreters May 1- Labor Day each year. With special events all year and so much to see and explore, Stuhr Museum is a must-stop for those interested in history, culture and family fun. Your visit your trip in the Stuhr Building, our "Gem of the Prairie" which recently underwent a $7 million renovation. Inside you'll find striking architecture, historic and art exhibits and the Prairie Treasures Gift Shop. From there be sure to visit the Fonner Rotunda which houses our Cowboy and Native American artifacts. Then it's off to Railroad Town where, May 1 – Labor Day, you can find interpreters working and living on our 1890's community. Visit the Mercantile, Blacksmith Shop, Telephone Exchange, four historic homes and much more. Stuhr Building and Gus Fonner Memorial Rotunda open year-round, Mon-Sat, 9am-5pm; Sun, noon-5pm. Closed Easter, Thanksgiving, Christmas, New Year's Day and Mondays Jan-Mar. Admission for May-Labor Day: $8 adults, $6 ages 6-12, $7 seniors, 5 & under free. Admission for Labor Day-Apr: $6 adults, $4 ages 6-12, $5 seniors, 5 & under free. Stuhr & Hastings museum members are free. AAA members and military personnel get a $1 discount. Special events take place all year long.