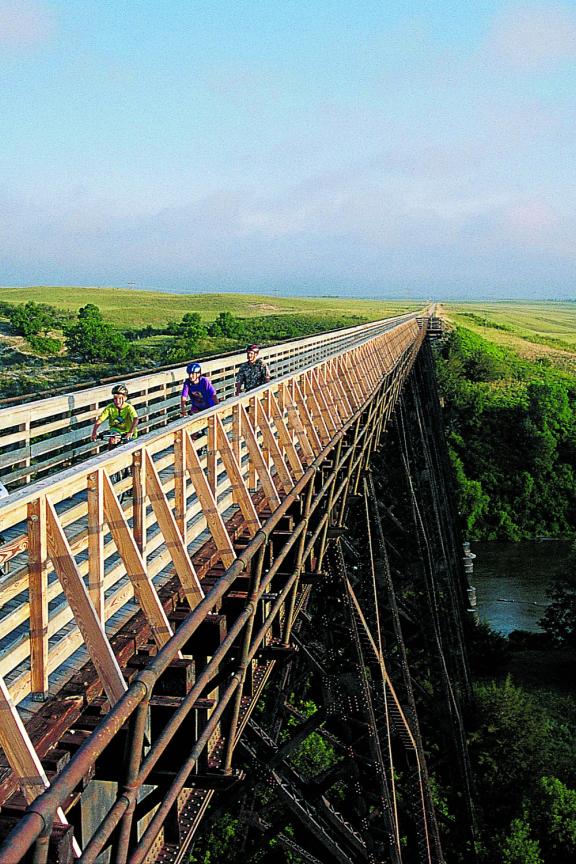 Bike Riding the Cowboy Nature & Recreation Trail
If you could see Nebraska through my eyes, you'd explore Nebraska by bike. If you came to Nebraska and asked where to ride, I'd send you to Valentine. That's where the western edge of the 196-mile Cowboy Trail begins and a journey through Nebraska by bike. There are so many wonderful sights and sounds along the trail. Ride over grand railroad bridges, take a plunge into the cool spring-fed Long Pine Creek at Long Pine State Recreation Area or grab a milkshake at the historic Range Cafe and shoot some pool at the Newport Pool Hall. Every town along the trail welcomes cyclists and has a place for you to hang your hammock.
Cowboy Trail
Eastern trailhead in Ta-Ha-Zouka Park
Norfolk, NE
United States
Hike/bike and nature trail runs 195 miles to Valentine. Trailhead located in all 15 communities along the trail. Visit the website to download the latest trail brochure. Trail is open 1/2 hour before sunrise to 1/2 hour after sunset.
Long Pine State Recreation Area
1 mi. N., 1 mi. W. of US Hwy 20
Long Pine, NE
United States
Scenic creek runs through canyons. Trout fishing, camping, hiking trails, archery and picnic shelters. Park permit required. Camping fees: $9 pads, $7 primitive. Walk-in activities only mid-Sep thru May 1, sunrise to sunset.