Spring Events & Festivals
Need a reason to visit Nebraska this spring? How about a dozen? We have more, but you have to start somewhere.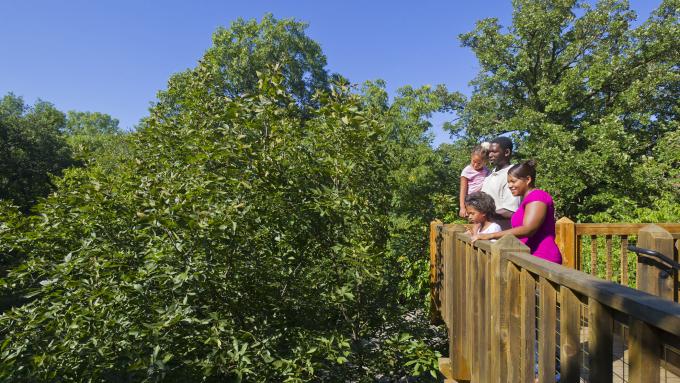 Maybe it's because we've been cooped up all winter, but spring brings out the weird and wonderful in us. Which means it's prime time for you to experience only-in-Nebraska festivals and events. Join us in spring as we celebrate migrating cranes, dancing chickens, cowboys, fried cattle cojones and more.
March
Sandhill Crane Migration, Central Platte River Valley Flock to the Platte River to witness as more than 500,000 sandhill cranes land, rest and feed before completing their migration. 
St. Patrick's Day, O'Neill Join in four days of Irish heritage celebration, complete with green beer and traditional dancers, in the town of O'Neill, "Nebraska's Irish Capital."
APRIL
Husker Football Spring Game, Lincoln Pack Memorial Stadium with thousands of dedicated Husker fans for the highly anticipated showing of Nebraska's beloved football team.
Arbor Day Celebration, Nebraska City Celebrate at events statewide or mark the tree planter's holiday with plantings, tours, shopping and family-friendly activities where it all began: Nebraska City's Arbor Day Farm.
Junkstock, Waterloo The countryside of an old farm transforms into a charming outdoor boutique with vintage finds, tasty treats
and groovy tunes. Shop away.
MAY
 
Sip, Ashland Come sip the best produced wines, craft beers, and distilled spirits made right here in Nebraska. Enjoy unlimited tastings, food, shopping, and more in the beautiful outdoors at Eugene T. Mahoney State Park."
Lincoln Marathon, Lincoln Cheer or run along this city-wide course that ends on the 50-yard line of the Huskers' Memorial Stadium. 
Toast Nebraska Wine Festival, Gretna 150 Nebraska wines will tempt you at this festival, but don't miss live music, wine-themed educational sessions, shopping, food and more.
 
JUNE
Great American Comedy Festival, Norfolk Grab a seat for this festival, when some of the nation's greatest comedic talent gathers to pay tribute to the legacy of Norfolk native Johnny Carson. 
NEBRASKAland DAYS, North Platte Cowboy culture and top country music stars await you at this North Platte festival, one of the biggest parties in the state.
Testicle Festival, Ashland On Father's Day weekend, gather 'round for Rocky Mountain oysters, live music and a Ball-Eating Contest.
College World Series, Omaha Hit Omaha for 12 days of America's greatest pastime, plus music and beer gardens surrounding the stadium.